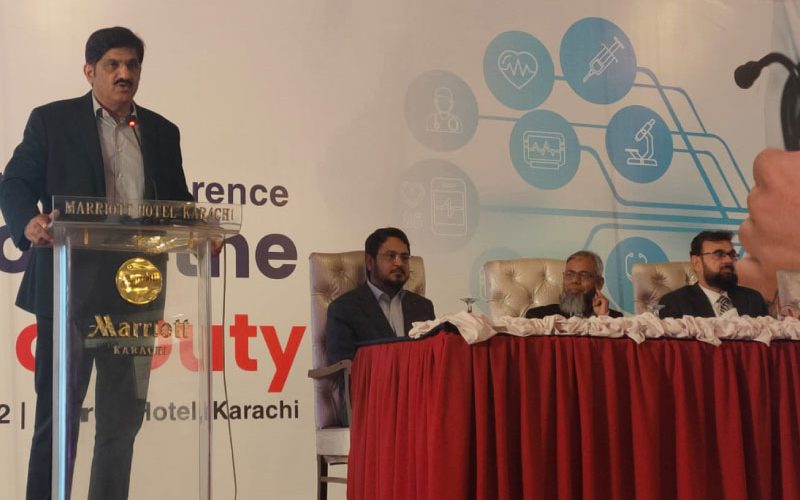 The Indus Hospital & Health Network (IHHN) hosted the ICON 2022 closing ceremony on Sunday, March 27, 2022, at the Marriott Hotel, Karachi. Under the banner of ICON 2022, three more ceremonies were held throughout the day, namely; COVID appreciation ceremony, PGME convocation, and a Mushaira.
Dr. Kashif Shazlee, Chair, ICON 2022; Dr. Ahmer Hamid, Co-Chair, ICON 2022; and Dr. Nida Shamsi, Co-Chair, ICON 2022, hosted the event. Abdul Karim Paracha, Chairman Board of Directors, IHHN; Dr. Abdul Bari Khan, Chief Executive Officer, IHHN; and Syed Murad Ali Shah, Chief Minister, Sindh, along with other dignitaries of the health department of the Sindh Government.
The first virtual conference of the Indus Hospital & Health Network, ICON 2022 successfully conducted over 100 workshops, 40 scientific sessions, and three plenary sessions. It provided a vital platform for medical professionals and others working in the health field to showcase their work and address a global audience of policymakers, allied health professionals, corporations, and other prominent individuals. Over 8000 participants attended the event throughout Pakistan and across the globe.
Dr. Kashif Shazlee started off the proceedings, thanking everyone in attendance for their outstanding efforts in successfully conducting the biggest ICON conference to date.
"ICON 2022 served as a platform for healthcare initiatives explored and initiated through collaborations with national and international partners. The success of ICON 2022 has allowed us to present Indus-based research to the global health community and continue our Indus-based research publications."
Murad Ali Shah, Chief Minister of Sindh, offered a hearty congratulations to everyone in attendance. "The success of the ICON 2022 conference is exemplary of how Indus is recognized as a national Network with international impact and outreach. In line with its theme this year, ICON 2022 featured numerous, highly informative workshops and sessions that not only defined the future of healthcare but in fact the core problem in healthcare delivery globally."
Dr. Bari concluded the presentation with a warm welcome to everyone and congratulated the ICON committees for their tireless efforts in making the sixth biennial conference to live up to the legacy set by its predecessors.
Shields of appreciation were distributed among the main organizers as a token of appreciation for their hard work and dedication. Following the shield distribution, an announcement was also made for ICON 2024. Dr. Saima Ali, Head, Department of Emergency,  was announced as the chair to resounding applause from the audience.