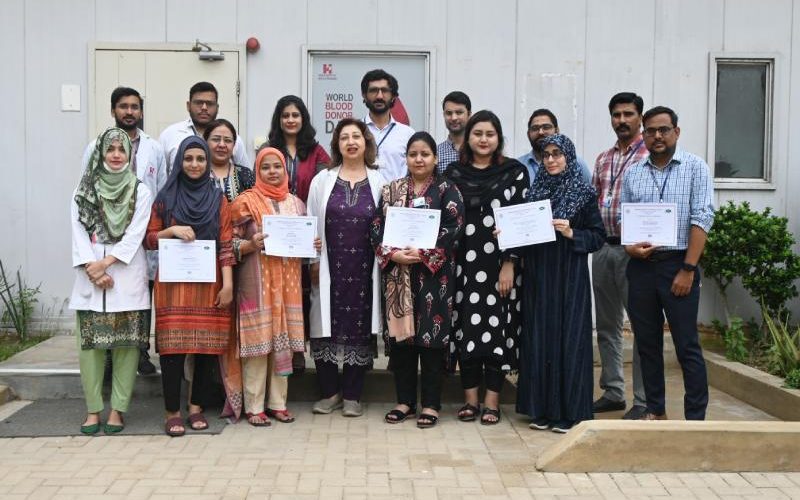 The Blood Center, Indus Hospital & Health Network, Karachi; and Regional Blood Center (RBC), Jamshoro along with its associated Hospital Blood Banks in Civil Hospital- Hyderabad, Thatta, and Badin have received accreditation with ISO 15189 quality standards. This achievement makes RBC Jamshoro and its associated Hospital Blood Banks, the first transfusion facilities in the public health sector to be accredited with ISO 15189, setting a new benchmark of quality in blood transfusion services in Pakistan.
A consistent supply of blood is a cornerstone of any health-care system as blood transfusions are needed for a wide range of health conditions. The unavailability of timely and safe blood transfusions has led to many otherwise avoidable deaths. The inability to adequately screen the donated blood contributes to the spread of transfusion-transmissible infections, compromising the patient's wellbeing and further straining the healthcare system. Maintaining safe and effective procedures for the collection, storage, and use of donated blood is crucial.
Established in 2013, Indus Hospital & Health Network's Blood Center at Korangi Campus, Karachi is Pakistan's first centralized blood center. With a mission to mobilize the nation towards 100% voluntary blood donations, the Center and its affiliates provide the safest possible blood to all.
From the very beginning, the Blood Center has worked to meet international standards. The entire blood banking process in all blood centers and all associated hospitals' blood banks is driven by an in-house developed work flow software, employing International Society of Blood Transfusion (ISBT) 128 barcode systems, and built around the American Association of Blood Banks' regulations, thereby, ensuring 100% purity and traceability.
Despite the challenges faced by the Blood Center as a young institution which is the pioneer of voluntary blood donation collection in the country, it is resolutely committed to meeting high quality standards and continuous improvement. The ISO15189 accreditation is thus, truly a milestone for the institution. It raises community confidence in the services provided by the Blood Center and serves to provide an opportunity to benchmark these services with the best.
ISO 15189
ISO (International Standards Organization) is an independent, non-governmental international organization with the mandate to develop international standards for organizations of all kinds. ISO 15189 is a comprehensive standard for laboratories and is regarded as a gold standard for their accreditation.