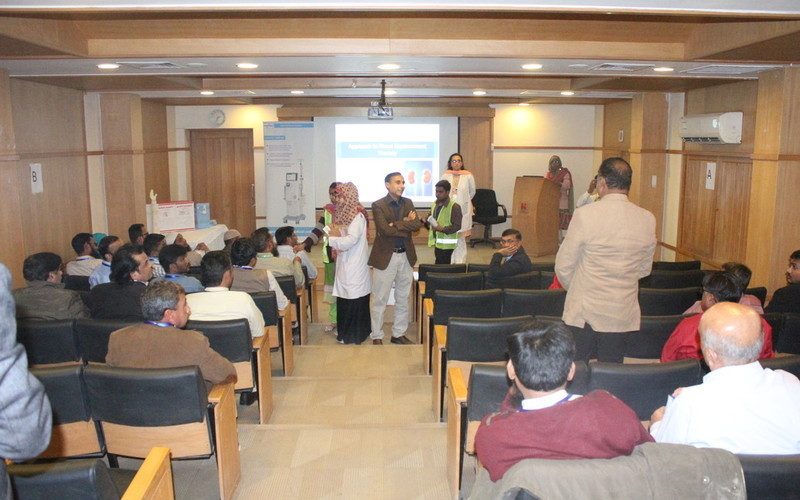 The department of family medicine at Indus Hospital & Health Network (IHHN) conducted a Continuing Medical Education (CME) session on Malnutrition in children under five years of age (An integrated approach by clinicians and policymakers). The event was organized on February 7, 2023, at the Indus hospital – Korangi campus, Karachi.
The objective of this CME was not only to equip physicians with adequate knowledge with respect to diagnosing and managing malnutrition in children but also to discuss the current policies in practice in Pakistan for treating malnourishment in children and to reach a consensus in making a pathway to adopt better programs across various sites of IHHN.
The event comprised interesting interactive presentations on the diagnosis and management of micro & macro nutrient deficiencies in children under five years of age and discussed the current policies to combat the dilemma of malnutrition in practice across Pakistan. An interactive hands-on activity for calculating Mid upper arm circumference (MUAC) and plotting of variables on the growth chart was also successfully conducted.
Session speakers included Dr. Saba Shahid, Head of Department, Pediatric Medicine, Indus hospital-Korangi campus; Dr. Muhammad Aadil Akhtar, Director, Maternal an Neonatal Child Health and Nutrition; Dr. Ihtasham Zafar, Specialist, Family Medicine; and Ms. Hareem Syed, Clinical Pediatric Dietitian.
A question & answer session and panel discussion was also conducted by the panelists for the event, which included Dr. Hiba Ashraf, Director of the Primary Care Program and Faculty of Family Medicine, IHHN; Dr. Muhammad Fareeduddin, Chair of the Department of Pediatrics,  Indus Hospital-Korangi Campus; Dr. Saba Shahid; Dr. Mohammad Aadil Akhtar; and Dr.Nida Ilyas Shamsi.
The session ended with the distribution of shields and certificates to the panelists, speakers, and organizers of the event. There were over 50 participants in attendance.  All will be provided with an e-certificate accredited by the Dow University of Health Science (DUHS) for 2.5 hours of Continuous medical education.
Indus Hospital & Health Network would like to acknowledge and thank all those involved in making CME: Child Malnutrition a resounding success. The session achieved its objective of training the family physicians and pediatricians to manage malnutrition in children and facilitating a discussion of the programs in practice across IHHN's various sites.