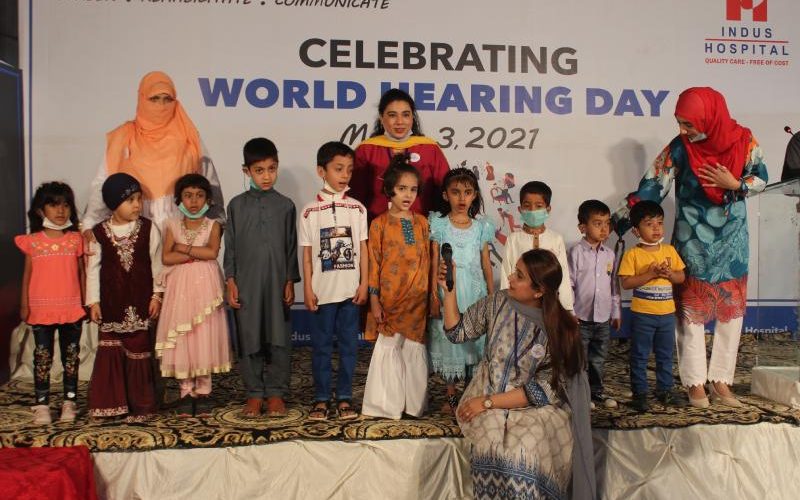 Every year World Hearing Day is held on March 3 to raise awareness on how to prevent deafness and hearing loss and promote ear and hearing care across the world. To commemorate this great cause Indus Hospital & Health Network (IHHN) put together an event to mark its achievement of successfully completing 100 cochlear implant surgeries.
IHHN has the most comprehensive program in Pakistan, providing evaluation, treatment and follow-up, to patients with profound hearing loss. The program has been in place since 2014, however, in April 2017 IHHN made the decision to consolidate all aspects of Cochlear Implants (CI) as an integrated practice Unit (IPU) to converge various services into one program. The holistic program provides ENT, audiology, speech and language therapy, psychological and social support, and parental training to Cochlear Implant candidates.
At IHHN, the program is led by Dr. Asif Arain who along with his team of highly accomplished doctors have made an impact on hundreds of families. Dr. Ashar Alam, Dr. Anjum Naveed and Dr. Shamvil Ashraf spoke at the event to applaud the efforts of the institute, paramedical staff, and donors. Special acknowledgement was awarded to Mr. Khaliq-ur-Rehman, a member of the board of Directors of IHHN and Dr.S.M Tariq Rafi, Dean of Jinnah Sindh Medical University for their long standing support toward the Cochlear Program and IHHN.
Many people are unaware of the impact of Cochlear implants on patient's lives and its importance in the lives of those with hearing and speech impairments. However, the event was successful in creating a strong association with the program and its impact on the patient's present and future, by catering to their natural impairment and making them a valuable asset to the society.