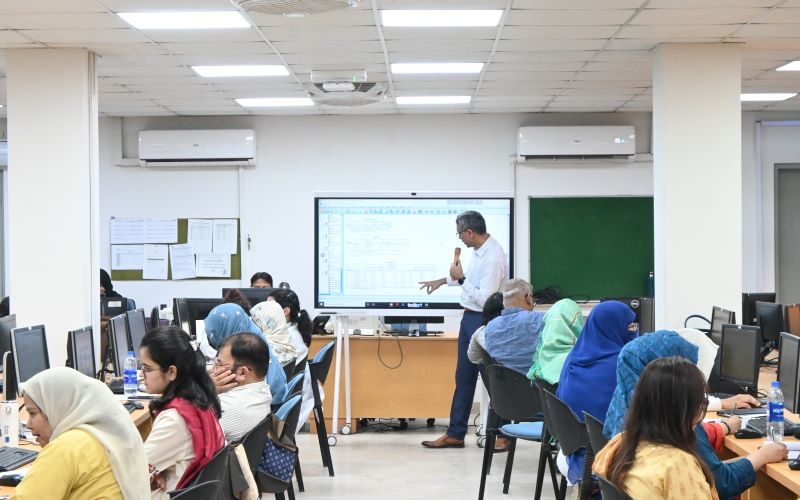 The Department of Immunology at Indus Hospital, Korangi Campus, conducted a two-day DUHS-Accredited Continuing Medical Education (CME) workshop – "Application of Biostatistics in Medical Research," on March 1, 2023. The workshop elaborated on how SPSS enables efficient data management and provides control for improved data organization.
When it comes to analyzing and managing large data sets, SPSS is one of the most effective programs available. SPSS data can be transferred and used for in-depth analysis in any format.
SPSS provides a wider selection of choices for data analysis using graphs and charts. The techniques aid in sorting and preparing data for better interpretation, and users can organize output more effectively with SPSS. Researchers will have precise knowledge of the variables and situations, which facilitates speedy data analysis. Thus a relationship with any analysis can be provided more quickly and with less effort.
The objective of the workshop was to build the participants' capacity in the following areas: basic terminologies of biostatistics, types of variables in accordance with SPSS, quality data entry for sound analysis, application of statistical tools for descriptive & analytical analysis, and interpretation of statistical data.
The CME workshop was attended by twenty-two participants from different departments and was led by Mr. Jaffer Bin Baqar, the lead trainer. At the end of the workshop, Dr. Zafar Zaidi, CEO of IHHN, awarded certificates of participation to the speakers, facilitators, and organizers.