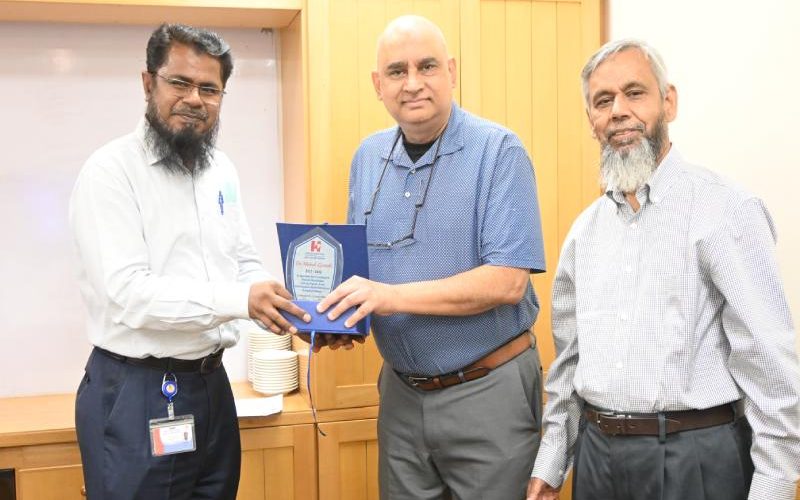 Indus Hospital & health Network (IHHN) held a ceremony to acknowledge the exceptional contributions of Dr. Misbah Qureshi, who is a neonatologist in Fredericksburg, Virginia, USA and is affiliated with Children's National Medical Center, USA. He specializes in Neonatal-Perinatal Medicine. A long-time supporter of IHHN, Dr. Qureshi has facilitated several Neonatal Resuscitation Program (NRP) Workshops at IHHN's medical facilities.
Dr. Muhammad Shamvil Ashraf, Executive Director, Medical Services, IHHN and Dr. Ashar Alam, Medical Director, IHHN Korangi Campus, presented the memento to Dr. Misbah. Dr. Imran Iftikhar, Consultant, Cardiology, Dr. Vikram Kumar, Neonatologist and Dr. Muhammad Fareeduddin, Chair, Pediatric Services were also present at the occasion.
The NRP workshops led by Dr. Qureshi, have trained and equipped physicians; nurses; midwives and other healthcare providers to properly care for neonates in the delivery room, newborn nursery, special care nursery, and neonatal intensive care unit. During the workshops, participants received training on: foundation for neonatal resuscitation; newborn care; positive-pressure ventilation; alternative airways; chest compressions; medications; resuscitation and stabilization of babies born preterm.
According to UNICEF, Pakistan currently has an abysmally high neonatal mortality rate with 44 babies dying per 100 live births. IHHN plans to reduce this by ensuring the development of a competent healthcare workforce through regular training programs and workshops.