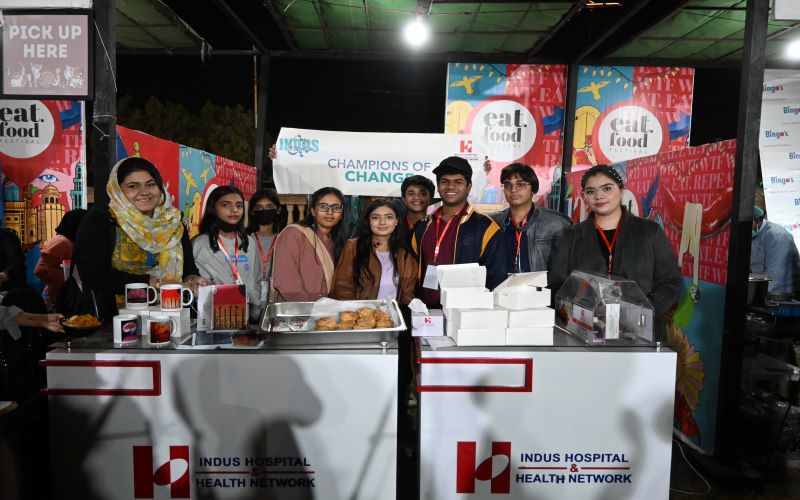 The Indus Hospital and Health Network (IHHN) participated in the Karachi Eat Festival from January 6-8, 2023, to raise funds for free-of-cost, quality chemotherapy sessions for childhood cancer patients at The Indus Hospital, Korangi Campus.
Under Indus Yaqeen, IHHN's youth empowerment program, student volunteers diligently ran IHHN's booth, which boasted a variety of delicious goodies for sale, including cupcakes, chicken patties, and assorted cookies. All food items were carefully prepared by the bakery at The Indus Hospital, Korangi Campus, and the cupcakes were freshly frosted in front of the guests, to their delight.
The booth also displayed a series of merchandise whose artworks were created by the childhood cancer patients at IHHN. These included mugs, notebooks, kitchen magnets, cards, etc. Upon each purchase, the guests were gifted a decorated card – handwritten by one of our patients – thanking them for their generous contributions and invaluable support.
Indus Hospital and Health Network (IHHN) would like to give a special shout-out to all the volunteers who passionately championed IHHN's noble work amongst the vast crowd at Karachi Eat Festival – the most renowned and iconic food festival in Pakistan. Apart from manning the booth, the volunteers routinely went out into the field and painstakingly brought families, individuals, and groups of people to IHHN's stall, persuading them to support our shining stars.
Isra, a student volunteer & cancer survivor, said, "It is a great feeling for me that after surviving cancer, I can now stand here and motivate others to have faith that they will get better and help them in the way that I was helped. I am so thankful for the opportunity to help raise funds for life-saving cancer treatment."
Usman Shahid, one of Indus Yaqeen's senior volunteers, played an instrumental role in securing the booth's success. Along with working at the booth, he also expertly organized & managed the communications between all volunteers and the IHHN team. Speaking on the experience, he said, "We volunteers worked really hard to make the event a success. I want to thank the people of Karachi and the team at Indus for supporting us and giving us this amazing opportunity to make a difference in the lives of so many children!"
Thanks to their hard work and perseverance, IHHN's booth was able to generate enough funds to sponsor 48 chemotherapy sessions for childhood cancer patients.