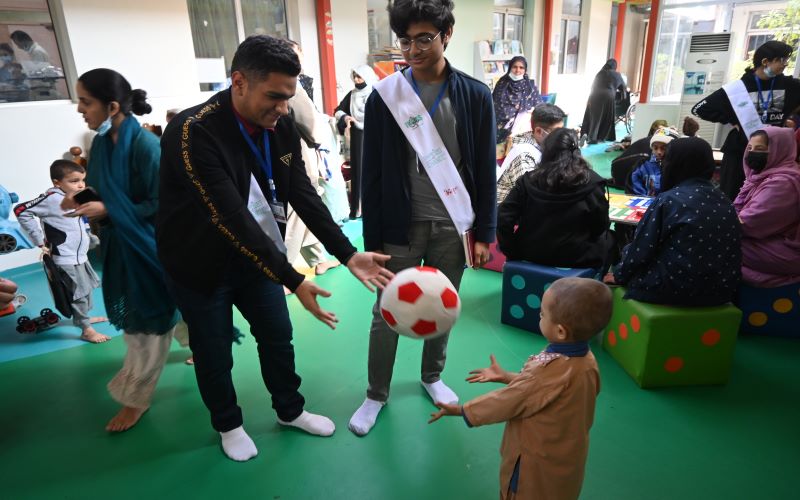 Indus Hospital & Health Network (IHHN) celebrated iHope Volunteer Program's 21st batch of volunteers. Participants included students from various prestigious schools in Karachi including Dawood Public School, Karachi Grammar School, The City School, Convent of Jesus and Mary, Reflection School, Foundation Public School, DHA College and School System & Headstart School.
During the program, the students were divided into four groups – Rescuers, Healers, Protectors, and Helpers – and took part in various activities including, ward visits, Art Therapy, Voices Against Tobacco (VAT), CPR & Fire-fighting training. Apart from this, the students also attended several informative talks on art, empathy, career growth, social media, and the climate. The respected speakers included, Dr. Abdul Bari Khan, President of IHHN; Shakeel Akhtar, Chief Information Officer, IT, IHHN; Dr. Zafar Zaidi, CEO of IHHN; Umer Adil, Sardar, and Ahmed Shabbar.
Addressing the students, Dr. Abdul Bari Khan said, "People usually say that dreams are those that we see while we are asleep, but the real dreams are those that don't let you sleep. So, dream big and work hard to make them grow even further."
iHope Program – Closing Ceremony
On the last day of the volunteer program, a closing ceremony was conducted to honor the students for their community service and to encourage them to stay life-long supporters of IHHN's Indus Yaqeen program. Each group gave a presentation show-casing their experience interacting with the patients at IHHN and the activities they engaged in.
The volunteers also gave short speeches on how the experience opened their eyes to the harsh living realities in Pakistan. Their interactions with patients and subsequent work taught them that despite their age, they can make a difference for the better in someone else's life.
Following the presentations, Ms. Reshma Tabani (I-Inspire Woman Ambassador) gave a short speech. She urged the students to work hard to reach their goals and stay life-long supporters of the Network's noble cause.
At the end of the ceremony, the students were presented with certificates of participation.
The closing ceremony was attended by parents of the volunteers, principals & vice principals of the participating schools, and chief guests Dr. Muhammad Amin Chinoy, Executive Director, Physical Rehabilitation Directorate, IHHN, and Dr. Shamvil Ashraf, Executive Director, Medical Services Directorate, IHHN.
Background
The iHope Volunteer Program falls under the banner of Indus Yaqeen – a unique platform for the youth of Pakistan to empower them to shape the society we live in. In the iHope Program, students are given the opportunity to develop their leadership and problem-solving skills and learn invaluable life-long lessons of empathy and compassion. IHHN has been arranging this volunteer program since 2015.
The 21st batch of iHope volunteers will join the program's alumni network and become the future innovators and change-makers of Indus Hospital and Health Network.