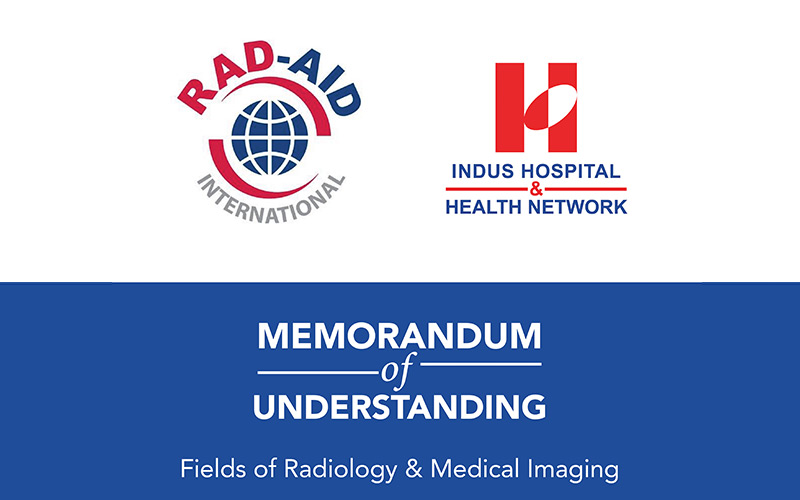 Indus Hospital & health Network (IHHN) is proud to become the first partner of RAD-AID international in Pakistan. The two organizations signed a Memorandum of Understanding (MoU) for the joint purpose of advancing the fields of radiology and medical imaging to benefit the medically underserved populations and communities in Pakistan.
IHHN will collaborate with RAD-AID International in establishing a holistic advancement program for IHHN's radiology departments. This includes continuing education of IHHN's radiology workforce, and assistance in radiology equipment and technology acquisition, planning, implementation, safety, and operation.
In order to maximize support for essential clinical imaging resources and radiology capacity building, the two parties will organize, manage and deploy radiology teams, comprising of expert radiology technologists, sonographers, medial physicists, nurses, health information technologist specialists, and oncologists. These teams will provide comprehensive training and educational resources to staff, personnel, and healthcare workers at IHHN and IHHN's affiliated medical facilities throughout Pakistan.
Remote and onsite education will be provided through various methods including lectures, demonstrations, clinical case discussions, mentorships, and tutorials, in line with IHHN's radiology goals and milestones. To measure improvement in personnel knowledge acquisition and skill-development, regular assessments will be conducted by RAD-AID International teams.
As the nation's largest healthcare network, IHHN is committed to the advancement of medicine via research and training. To this effect, IHHN has partnered with various local and international organizations to improve the delivery of free-of-cost, quality care to all.