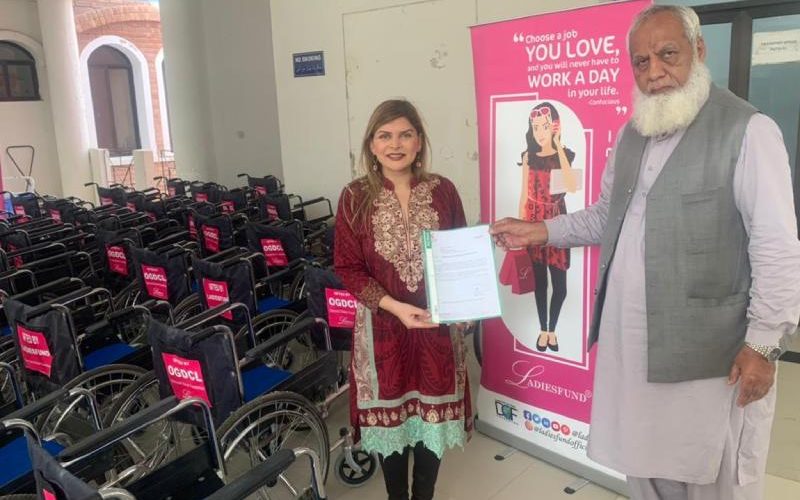 Dawood Global Foundation handed over wheelchairs to the Indus Hospital & Health Network's District Headquarter Hospital (DHQ), Badin, as part of the Dawood Global Foundation's "LADIESFUND 1000" initiative to give 1000 wheelchairs to those in need across Pakistan. These wheelchairs were with the cooperation of Oil & Gas Development Company Limited (OGDCL) Pakistan.
Dr. Akhlaque Khan, Head of Campus, DHQ Badin, received the wheelchairs on behalf of IHHN.
Barkat Ali Sohu, the representative of OGDCL, appreciated the efforts of Dawood Global Foundation. He also added that OGDCL always tries to encourage social welfare activities, which has been proved today.
Miss Tara Uzra Dawood, President, Dawood Global Foundation LADIESFUND, said, "We as a society must be there for our citizens struggling and in need. We are very humbled to be able to give these wheelchairs today, and with the help of wonderful different collaborators, we hope to give wheelchairs across Pakistan."
"It is our honor to be able to serve the community this way," stated Ammad Siddiqui, Chair, #LFWheels, who personally selected the premium wheelchairs for donation.
District Headquarter Hospital, Badin, is a 300-bed facility with a limited tertiary care scope of service. The Government of Sindh handed over the management of the Civil Hospital, Badin to The Indus Hospital & Health Network (IHHN) under a Public Private Partnership agreement. In the initial stage, clinical services were organized at the old campus. Due to the exponential growth of patients, campus relocation took place in September 2018, and all inpatient, outpatient, emergency, and Day Care services are being carried out at the new campus.
IHHN has established a dedicated Pediatric Hematology and Oncology (PHO) Clinic at the District Headquarters Hospital, Badin, in 2021 as a first step towards establishing a center for childhood cancer and blood diseases. In 2020, IHHN inaugurated a physical rehabilitation center, the first of its kind in Interior Sindh and the fourth one established by Indus.