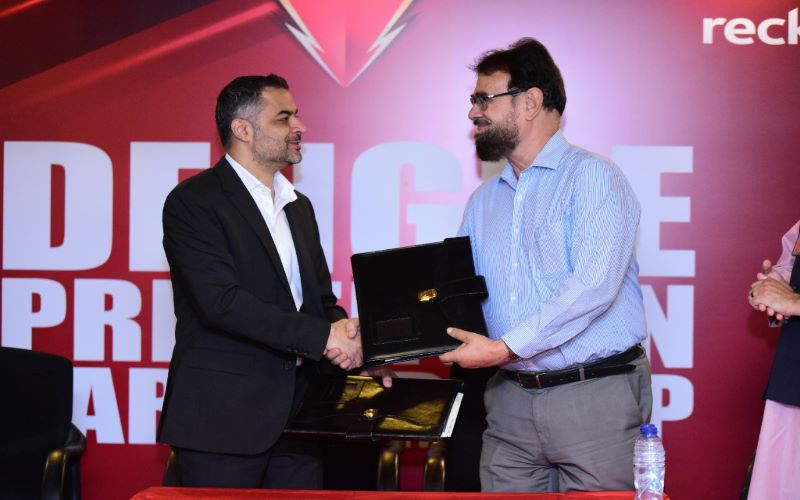 Indus Hospital and Health Network (IHHN) is proud to partner with Reckitt Benckiser (Pakistan) Limited (RBPL) in combating the rise of Dengue in Sindh. Both parties have signed a Memorandum of Understanding (MoU) on Dengue prevention, under which RBPL has agreed to donate one year's supply of Mortein products to IHHN.
Reckitt Benckiser (Pakistan) Limited (RBPL) is a manufacturer, importer/exporter, and marketer of health, hygiene & pharmaceutical products to ensure its consumers have access to top-notch healthcare and hygiene products in the furtherance of a healthier Pakistan. Mortein is one of RBPL's brands committed to giving back to society by initiating and supporting campaigns for spreading awareness and protection against all vector/mosquito-borne diseases through their campaign called "Dengue Ab Nahin."
According to the Sindh Health Department, more than 3,686 cases were recorded in the first two weeks of October 2022, a major cause for alarm and immediate action. This led to many lives being lost to Dengue, a tragic situation that could have been easily preventable by avoiding mosquito bites.
In light of this, IHHN is joining hands with RBPL and their "Dengue Ab Nahi," campaign, which is supporting prevention and awareness around dengue disease by providing free Mortein Coils to areas most at risk of an outbreak.
Indus Hospital & Health Network (IHHN) considers Reckitt Benckiser as one of its most valuable partners and thanks the organization for demonstrating a wholehearted interest in supporting the Network's noble cause of providing free-of-cost healthcare to all in Pakistan.