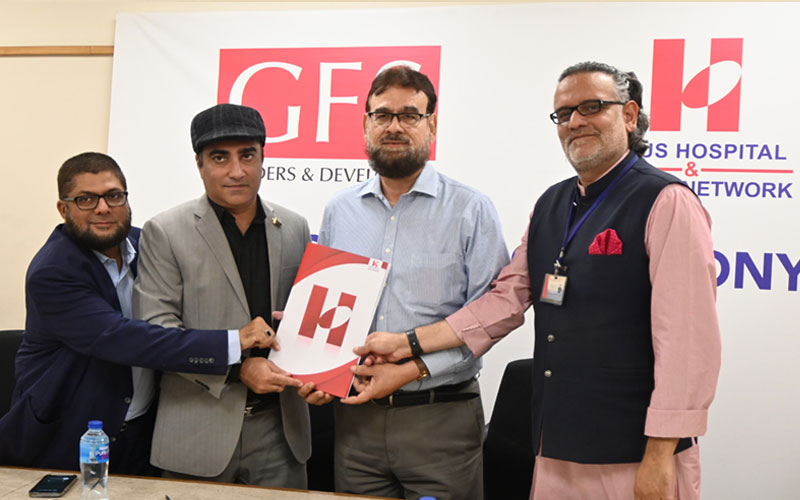 On October 24, 2022, Indus Hospital & Health Network (IHHN) entered into a Memorandum of Understanding (MoU) with GFS Builders and Developers (GFS). Both parties agreed to combine resources to advance IHHN's noble mission of providing free-of-cost, quality care for all.
Taking on an invaluable sponsorship role, GFS will support IHHN as a "Premium Sponsor" in its 2023-2025 Golf Tournaments and as a "Title Sponsor" in the 2022 Corporate Cricket Tournaments, to be held in Karachi, Lahore, and Islamabad. GFS will also be recognized as IHHN's sponsor in its 2023 Ramazan Campaign and ICON 2024 – IHHN's Biennial International Scientific and Academic Conference.
Additionally, GFS will also enhance IHHN's capacity building and service delivery by supporting the establishment of free-of-cost primary care clinics, hospitals, and Donation Collection Centers in its construction projects across the country, including Bahria Town, Islamabad, and other cities.
The momentous event was attended by senior leadership from both parties, including Mr. Irfan Wahid, CEO, GFS; Mr. Aslam Mianoor, Director, GFS; Dr. Abdul Bari Khan, CEO, IHHN; and Mr. Mashhood Rizvi, Executive Director, IHHN.
By building and maintaining private-private partnerships, IHHN is able to effectively use Pakistan's available resources to advance its humanitarian mission of uplifting the nation.