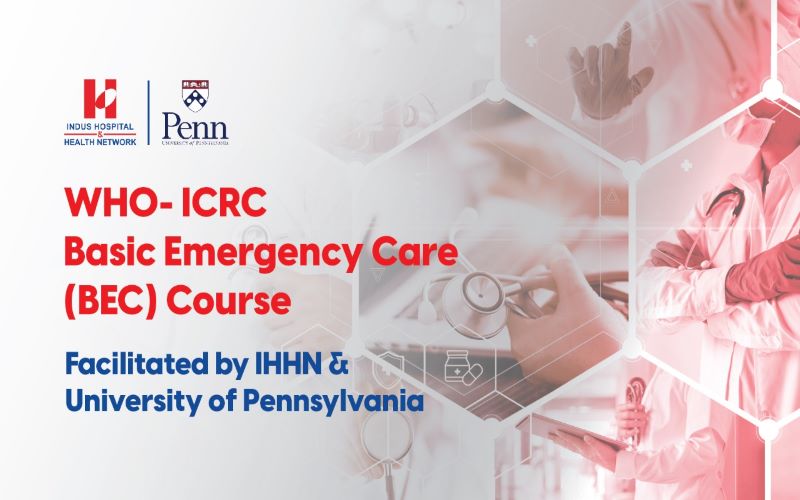 Indus Hospital & Health Network (IHHN) conducted the WHO-ICRC Basic Emergency Care (BEC) course at the Indus Hospital – QF, NST & SMP Campus, Jubilee Town, Lahore, from January 14-17, 2023. The open-access course aimed at building the capacity of physicians and nurses who work as first responders in resource-limited setups. Such conditions are common throughout Pakistan – a developing country with a fledging healthcare system.
The Family Medicine and Emergency Department at the Indus Hospital – QF, NST & SMP Campus, Jubilee Town, Lahore, organized the course. The course facilitators included Dr. Megan Rybarczyk, Fellowship Director, Global Emergency Medicine Fellowship, University of Pennsylvania; Dr. Saima Ali, Consultant & Head of Department, Emergency Medicine, The Indus Hospital (TIH), Korangi Campus; Dr. Maham Munnawar, Fellow, Global Emergency Medicine, University of Pennsylvania; Dr. Muhammad Adil Akhter, Director, MNCH&N, IHHN; Dr. Sabahat Fatima, Resident, Emergency Medicine, TIH, Korangi Campus; Dr. Dur-e-Nishat, Consultant, Family Medicine, Tehsil Headquarter Hospital, Kahna Nau Campus; and Dr. Saba Aslam.
The course was attended by thirty-three (33) physicians and nurses from IHHN-managed hospitals across Lahore. All enthusiastically participated in the 4 days of the BEC course and over half of them succeeded in becoming master trainers. The course also marked Dr. Saima Ali becoming the first Master trainer of the BEC course in Pakistan with the development of an internal pool of facilitators at IHHN. This will pave the way for future IHHN courses to improve healthcare provider knowledge and patient outcomes.
On the last day, Dr. Tasman, CEO of IHHN North, and Mian Salman Ahsan, distributed Certificates of Completion to the course participants. IHHN would like to acknowledge the dedicated efforts of Dr. Taarif Hussain, Head of Department, Emergency Medicine; Dr. Ayesha Shoaib, Head of Department, Family Medicine; and Dr. Huma Mannan.
WHO-ICRC Basic Emergency Care (BEC) course:
The WHO and ICRC have developed the WHO-ICRC Basic Emergency Care (BEC) course in collaboration with the International Federation for Emergency Medicine. The BEC course is an open-access training course for frontline healthcare providers who manage acute illness and injury with limited resources. It teaches a systematic approach to the initial assessment and management of time-sensitive conditions where early intervention saves lives, and has been shown to reduce mortality in the countries where it has been rolled out.
Course Details:
Designed for frontline pre-hospital or facility-based healthcare providers who care for adults and children presenting a variety of conditions.
Designed to provide a basic initial approach to the acutely ill or injured adult or child.
Designed to train the frontline emergency care workforce to deliver timely and appropriate care for the local population.
It is conducted as a hybrid with face-to-face didactics and hands-on training sessions for skills. The training involves teaching trainers how to conduct the course and the management of course logistics.