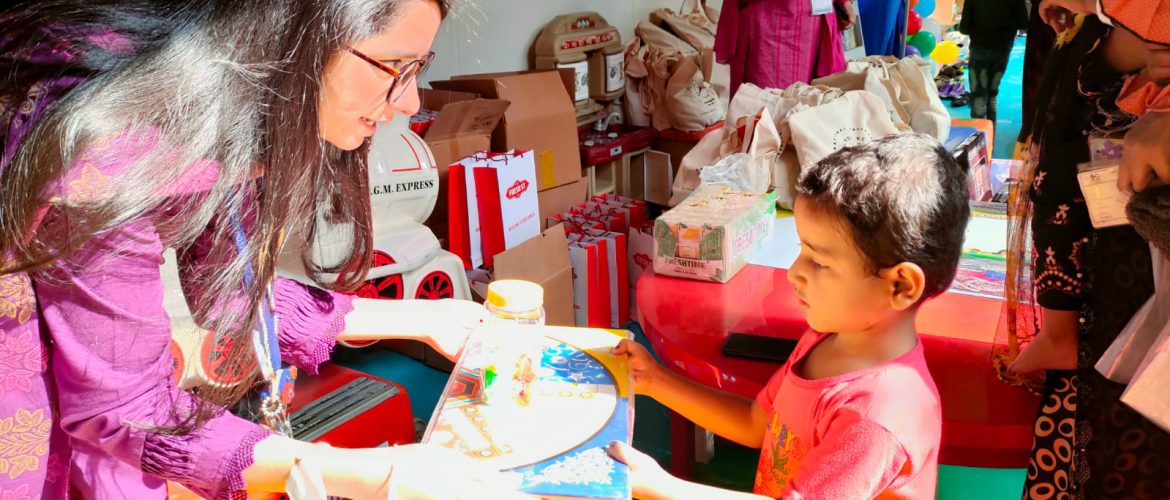 In celebration of World Children's Day 2022, a fun-filled event was held for the pediatric patients at Indus Hospital and Health Network (IHHN), Korangi Campus. The event was hosted by IHHN, Korangi's Psychosocial department, in collaboration with Sara Vazir, founder of 'Mehndi Ke Taj' – a non-profit initiative aimed at providing Henna Crowns and other confidence-boosting activities in order to empower children undergoing chemotherapy in Pakistan.
Held in IHHN's pediatric complex play area, the event included multiple stalls where children partook in exciting games and activities. This included an arts & crafts stall, where children were able to draw, paint, and color on a canvas which they took home at the end of the session. There were also lovely make-up, nails, and henna stalls where children got fun mini makeovers of their choosing. Afterward, each child treated themselves to delicious waffles & ice cream at the Food Stall set up in the area.
In the end, each child went home with a lovely goody bag full of games, snacks, toys, and arts & crafts materials donated by local organizations and generous persons determined to support IHHN's noble cause.
The event was attended by pediatric patients at IHHN, Korangi Campus's Departments of Medicine, Physical Rehabilitation, Cochlear Implant, and Oncology.