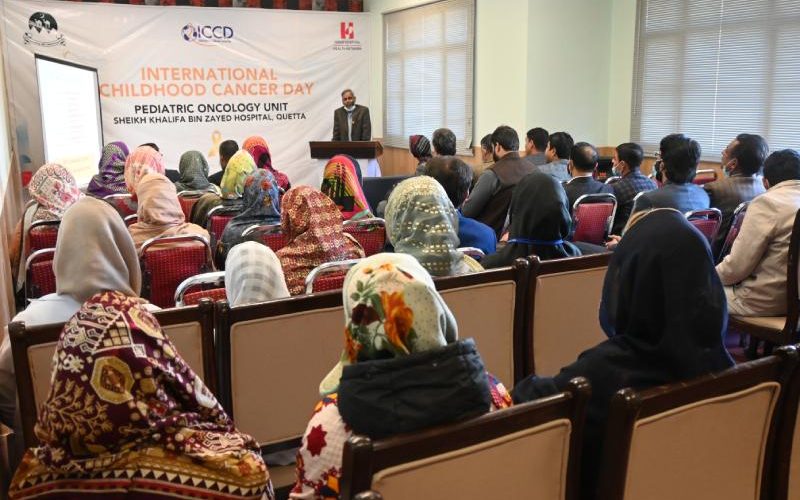 Quetta: Indus Hospital and Health Network (IHHN)'s Pediatric Oncology Unit at the Sheikh Khalifa Bin Zayyad Hospital celebrated International Childhood Cancer Day (ICCD) on February 16, 2022.
Dr. Shamvil Ashraf, Executive Director, IHHN; Dr. Abdul Qadir Pathan, Senior Consultant Pediatric Oncologist, IHHN, and other doctors, nurses, and other staff enthusiastically participated. Executive Director Sheikh Zayed Hospital, Dr. Fareed Sumalani also attended the event as the chief guest.
IHHN is committed to decreasing the number of preventable deaths by providing free-of-cost treatment to all children who have cancer and raising awareness and education about the global impact of cancer.
Since 2014, Indus' pediatric oncology service has treated 10,600 children with cancer and blood diseases. IHHN currently accommodates 19,063 outpatients for pediatric oncology consults monthly on average. After the completion of the new hospital at the Korangi Campus, this capacity is projected to increase to 43,680 patients.
As a result of a public-private partnership, IHHN established a pediatric oncology clinic at the Sheikh Zayed Hospital, Quetta. Since then, the residents of Balochistan have been saved from traveling to Karachi to get cancer treatment from the Korangi Campus.
During the event, pediatric oncology patients enthusiastically participated with their caregivers. While speaking at the event, Dr. Shamvil said, "IHHN comes with a mission to alleviate the suffering of the poor and the needy through the provision of quality healthcare services by establishing and managing hospitals for the provision of medical care with the application of modern methods of curative and palliative therapy."
The Chief Guest thanked IHHN for their excellent efforts and lauded the exceptional services being provided at the facility.