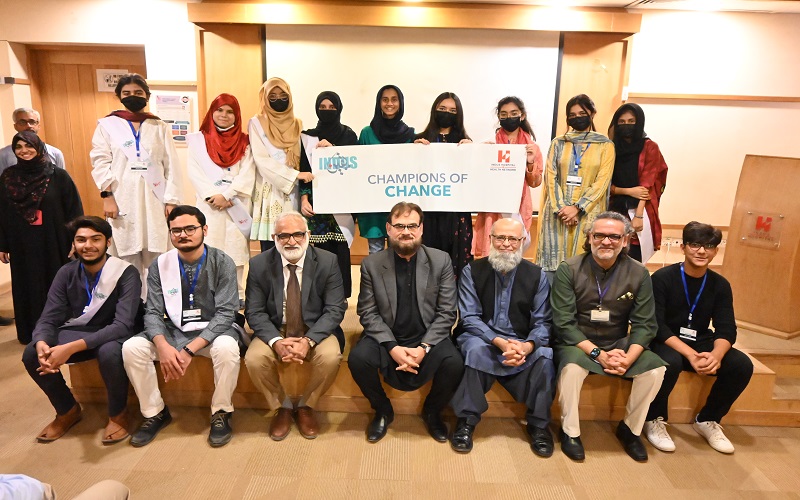 Indus Hospital & Health Network (IHHN) celebrated iHope Volunteer Program's 20th batch of volunteers in December 2022. Participants included students from various prestigious schools in Karachi including Generation School, The Indus Academy, Haque Academy, and The City School.
During the program, the students were divided into four groups – Rescuers, Healers, Protectors, and Helpers – and took part in various activities including, ward visits, art therapy, Voices Against Tobacco (VAT), CPR & fire-fighting training. Apart from this, the students also attended several informative talks on art, empathy, career growth, social media, and the climate. The respected speakers included, Shakeel Akhtar, Chief Information Office, IT, IHHN; Dr. Zafar Zaidi, CEO of IHHN; Umer Adil, Sardar, and Ahmed Shabbar.
On the last day of the volunteer program, a closing ceremony was conducted to honor the students for their community service and to encourage them to stay life-long supporters of IHHN's Indus Yaqeen program. Each group gave a presentation show-casing their experience interacting with the patients at IHHN and the activities they engaged in.
One of the students from the generation school narrated her eye-opening experience volunteering at IHHN. "When Dr. Abdul Bari visited our school to give a talk to us students, I couldn't believe that a hospital like Indus exists. How did he and his team turn this amazing dream into an almost unbelievable reality? Sitting in the audience, I decided there and then that I had to visit Indus Hospital at least once in my life. After volunteering here through IHHN's iHope program, I was shook to the core. I sincerely hope that this (iHope) is just the beginning of my journey with Indus."
Following the presentations, short speeches were given by Dr. Abdul Bari Khan, and Mashhood Rizvi, Executive Director, Communication & Resource Directorate, IHHN. They urged the students to maintain their relationship with Indus and become life-long supporters of the Network's noble cause.
Dr. Abdul Bari Khan went on to say, "The dream of IHHN was seen in 1987 and became a reality in 2007. You can see how far we have journeyed since then. Throughout it all I always hoped that the youth of Pakistan – our country's future – would be part of our growth. I urge all you students to dream big. Think, act with good intentions, and make your visions a reality."
At the end of the ceremony, the students were presented with certificates by Dr. Abdul Bari Khan, Mashhood Rizvi, Shakkel Akhtar, and Dr. Muhammad Amin Chinoy, Executive Director, Physical Rehabilitation Directorate, IHHN.
The iHope Volunteer Program falls under the banner of Indus Yaqeen – a unique platform for the youth of Pakistan to empower them to shape the society we live in. In the iHope Program, students are given the opportunity to develop their leadership and problem-solving skills and learn invaluable life-long lessons of empathy and compassion. IHHN has been arranging this volunteer program since 2015.
The 20th batch of iHope volunteers will join the program's alumni network and become the leaders, torchbearers, and change-makers of Indus Hospital and Health Network.