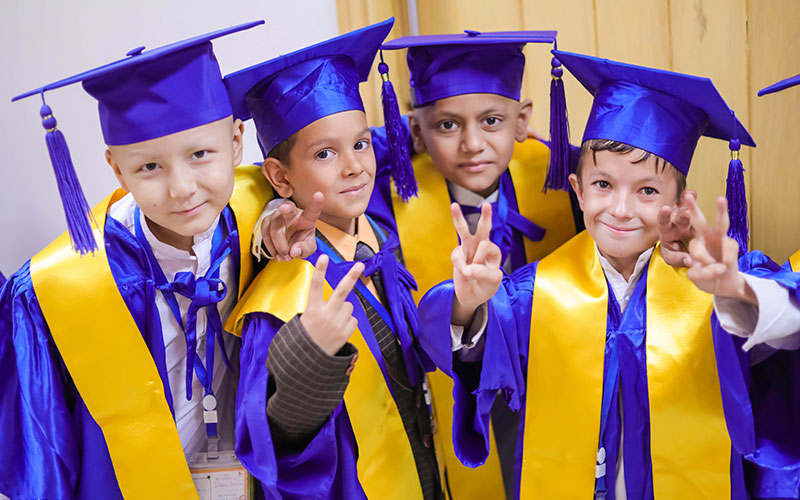 Indus Kay Sitaray (IKS) – Indus Hospital & Health Network's (IHHN) hospital-based school- held its sixth graduation ceremony for the hospital's long-term pediatric patients on September 14, 2022. The event was attended by patients, their families, and IHHN's staff and supporters who gathered to celebrate the momentous achievement of these little warriors.
This year's batch consisted of 26 brave children, hailing from all over Pakistan. Dressed up in brilliant graduation robes of blue and gold, the children lined up to receive their hard-earned certificates, report cards and medals. As each child came up to the stage, they were cheered on by their families, healthcare providers and teachers who had been with them every step of the way.
For the past five years Shahwilayat Public School has been partnered with Indus Kay Sitaray in providing free-of-cost, quality education to IHHN's pediatric patients. By collaborating with the doctors, nurses and the psychosocial department at IHHN, the students of IKS are able to continue their education alongside their medical treatment so that their development is not stunted.
Addressing the audience, Ms. Nudrat Imam, Principal of Shawilayat Public School, said "two, three days ago I was looking at the students' report cards and I was blown away by how far these children have come. I would like to commend the Dr. Bari, Dr. Fareeduddin, and the whole team for their commendable work and relentless determination in making IKS a success."
Esteemed Pakistani celebrities Behruz sabzwari, Shaista Lodhi and Minal Khan also attended the event to express their support for the little warriors in achieving this momentous milestone despite their health challenges. Having seen the impact IHHN has on patients first-hand, all are now proud IHHN ambassadors.