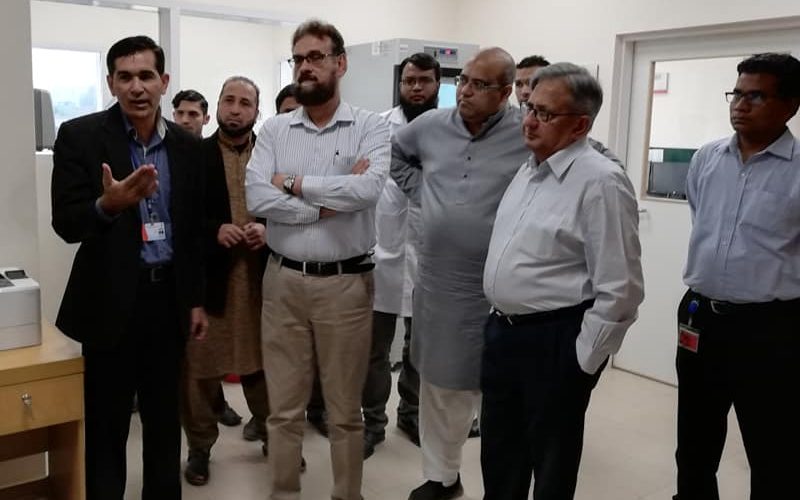 The Indus Health Network has a reputation for implementing innovative healthcare systems throughout the network. Following the tradition, the Central Pharmacy also expanded its services, which was inaugurated on January 2, 2018.
The service is housed in a purpose-built area which has four sections: inpatient pharmacy; cytotoxic; sterile compounding; and non-sterile compounding. The Pharmacy department currently employs 15 pharmacists and pharmacy technicians. It follows international standard USP 797 and 800 protocol.
The expansion would not only help the hospital to serve patients more effectively and efficiently but it'll also help in reducing the chances of hospital-borne infections as the medicine preparation now takes place in the designated area instead of the ward which will also lessen the workload of the nursing staff. The most major effect of this upgradation is saving medicine which would indirectly save money. The pharmacy department can now effectively utilize medicine by using in desired quantity without wasting the leftover medicine. The new setting will also improve the quality of pharmaceutical services and error-free dispensing.
"This is a very important development as it will help us in saving medicine and money. An efficient pharmacy service is one of the most important pillars of the hospital and IHN knows the value of good pharmacists. The innovation will help us in saving approximately 1-2 million rupees, monthly"; said Dr. Abdul Bari Khan, Chief Executive Officer, Indus Health Network, during the inauguration. Dr. Akhtar Aziz, Special Advisor Technical to the CEO Office, IHN; Dr. Shamvil Ashraf, Executive Director, Medical Services, IHN; Dr. Ashar Alam, Dircetor Medical Services Karachi; Mr. Waseem Ahmed, Head of Department, Supply Chain; Dr. Aslam Shah, Senior Manager, Pharmacy and Purchase; Dr. Fahimuddin, Manager Pharmacy inventory; and Dr. Arif Ali Arain Manager, Pharmacy Clinical Services were present at the inauguration ceremony.