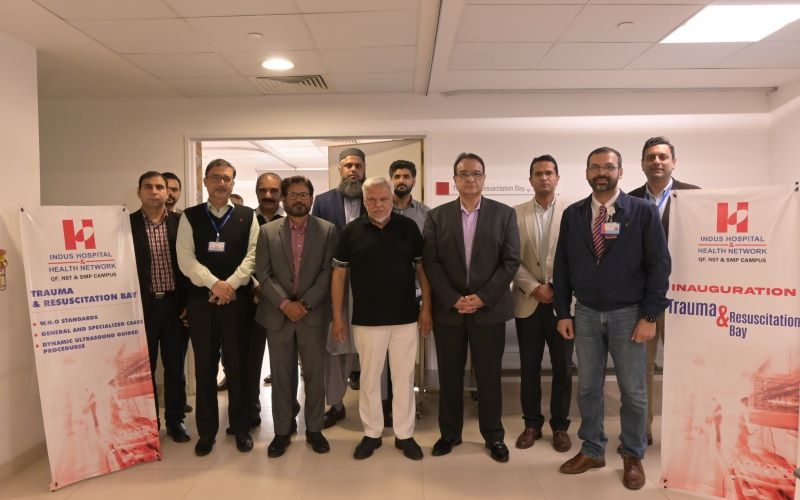 Indus Hospital & Health Network (IHHN) is pleased to announce its newest milestone achievement: the formal inauguration of the Critical Trauma and Resuscitation Bay at Indus Hospital – QF, NST & SMP Campus, Jubilee Town, Lahore, on February 20, 2023.
The inauguration ceremony was attended by Mr. Abdul Karim Paracha, Chairman of IHHN's Board of Directors; Mr. Faisal Afridi, Chairman Fundraising Committee North; Dr. Tasman Ibne Rasa, CEO of IHHN North; Dr. Shafiq Hyder, COO IHHN North; and Mr. Salman Hamid, Executive Director, CRD North.
The first of its kind, this advanced Trauma Center not only adheres to WHO standards, but is also equipped with the latest state-of-the-art equipment, for both general and specialized cases. Additionally, it features two ventilators and a capacity to deliver Dynamic Ultrasound guided procedures – such as Triple Lumen Central Lines – and more.
Speaking at the occasion, Mr. Paracha said, "It's an honor to inaugurate this fine institution that will no doubt help Indus in providing free treatment to the masses." He further explained how this new facility would help in bringing emergency services as close as possible to the population, and emphasized the need to bring such facilities everywhere else.
With this new facility under its belt, Indus Hospital and Health Network continues to demonstrate its commitment to delivering excellence in healthcare, absolutely free, to all patients across Pakistan.