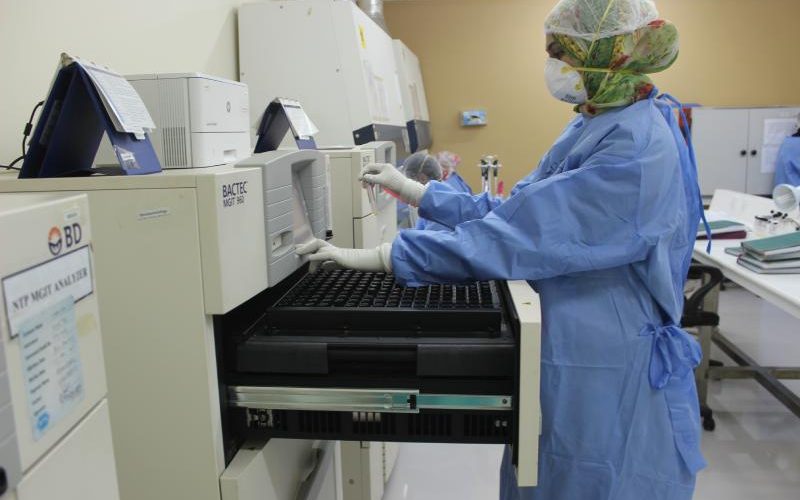 Karachi, Pakistan
July 25, 2019
Pakistan's premier health services institution, Indus Health Network (IHN) inaugurated a new Biosafety Level 3 (BSL-3) laboratory facility in Korangi, Karachi on Thursday, July 25, 2019. The BSL-3 laboratory is one of the largest in Pakistan, with experienced staff that have been well-trained in Tuberculosis (TB) diagnostics and biosafety practices. It has been built to meet international specifications, and TB diagnosis are conducted according to the World Health Organization and other international guidelines.
Dr. Azra Fazal Pechuho, Minister for Health, Sindh inaugurated the BSL-3 laboratory. Dr. Abdul Bari Khan, Chief Executive Officer, IHN; Dr. Shamvil Ashraf, Director Medical Services, IHN; Members of the Board of Directors, IHN; Heads of the Departments; and faculty members were present at the event.
Pakistan carries the 5th highest burden of Drug-Resistant TB in the world, with almost 27,000 patients developing Multidrug Resistant-TB (MDR-TB) each year. To grow capacity for addressing MDR-TB in Pakistan, in 2007 IHN piloted and introduced community-based treatment of MDR-TB. Prior to this, patients diagnosed with MDR-TB were offered treatment under inpatient care, seriously stretching capacity in the health sector. Mandatory in-patient treatment also separated patients from their families, resulting in poor treatment adherence and completion and high losses to follow-up. Since then, with subsequent rounds of funding from the Global Fund, IHN has offered DR-TB treatment at its flagship TB Clinic at the Korangi Campus in Karachi and an additional clinic in North Karachi (opened in 2017), as well as managed 10 additional DR-TB treatment sites for the Governments of Sindh and Baluchistan in remote parts of the two provinces. Through the Indus teams' efforts, almost 7,000 patients have benefited from MDR-TB treatment since 2007.
Corresponding to the scale of DR-TB care in the country, the Indus Health Network secured funding to grow BSL-3 capacity for increased Culture and Drug Sensitivity testing across the country. Drug sensitivity testing allows clinicians to identify the most effective drugs to patients with DR-TB and increases the patients' chances of early and complete recovery. The capacity of the new BSL-3 lab will enable us to carry a monthly workload of 20,000 AFB smears, 20,000 GX tests, 5,000 AFB cultures tests, 500 DSTs, and 1,200 LPA 1st and 2nd line tests. The lab's equipment currently includes 5 MGIT 960s, 3 (16 Module) Gene xpert machines, 6 Biosafety cabinets Type II, a double door autoclave, 5 LED fluorescent microscopes, 2 twin incubators with two thermal cyclers, and 5 -80 degrees Celsius freezers. The capacity of the lab will enable us to expand the equipment even further going forward.
TB is a contagious airborne disease. It is one of the top 10 causes of death worldwide, and in 2017, over 10 million people were diagnosed with TB and 1.6 million deaths were attributed to TB. Pakistan has one of the highest burdens of TB in the world, with over 500,000 new cases, and over 35,000 deaths from TB annually. One of the key reasons for the spread of TB is due to delays in diagnosis. Due to the capacity of the new BSL-3 lab, IHN will be able to analyze a large number of samples and provide a timely diagnosis, leading in turn to treatment being initiated faster.