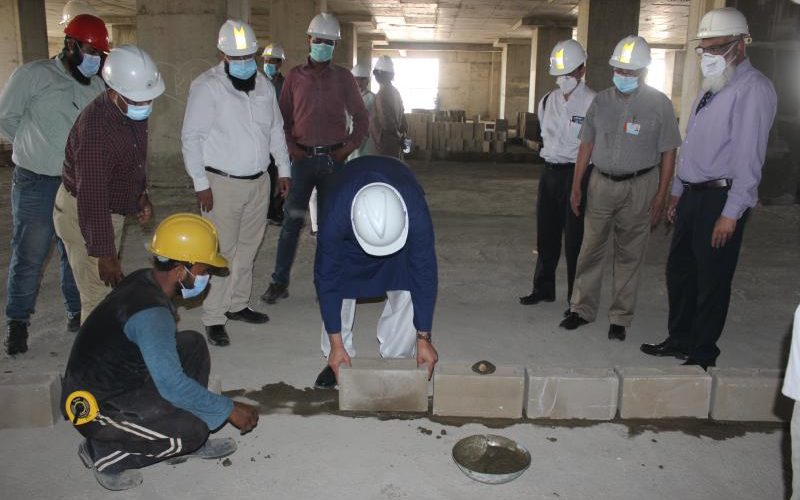 KARACHI: A brick laying ceremony for the new blood center was held at The Indus Hospital's Karachi expansion site recently.
The ceremony was attended by Dr. Abdul Bari, CEO, The Indus Hospital, Dr. Saba Jamal, Director Indus Hospital Blood Center, Dr. Zafar Zaidi, senior executive director, and Dean, Indus University of Health Sciences, Dr. Akhtar Aziz, executive director, and other members of the management.
The blood center will provide transfusion facility for thalassemia and hemophilia patients, hematology consulting clinics for patients suffering from blood diseases, a fractionated plasma products production unit, and a blood product irradiation unit.
The new blood center will also have an increased capacity for its Training Science Lab and have an overall increase in the workspace area for blood center technical and support teams. The blood center will have the storage and processing capacity of more than 200,000 units per annum.
An irradiator unit for blood products, walk-in freezers, refrigerators, and blast freezers will also be installed at the blood center. The facility will be able to provide safe blood to masses without any discrimination, meeting international standards of the American Association of Blood Banks.
Moreover, blood screening instrument Alinity S, approved by Food and Drug Administration (FDA) will also be used at the blood center to bring the latest screening technology to the Indus Hospital Blood Center, expanding the Center's capacity to run up to 600 tests per hour.