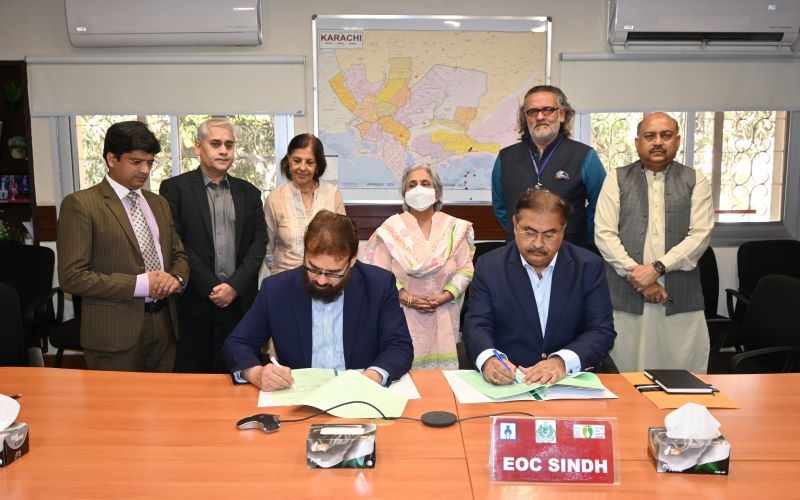 Sindh province reports over 200,000 cases of dog bites in a year, and many of these have proved fatal. Health delivery centers are deficient in providing post-exposure treatment, resulting in deaths from rabies. The Sindh Minister of Health has drawn upon the experience of Indus Hospital and Health Network (IHHN) to augment rabies prevention centers in emergency departments of government health facilities throughout Sindh and provide training in the correct methodology of rabies prevention.
IHHN and the Health Department, Government of Sindh (HD-GOS), signed a Memorandum of Understanding (MoU) on April 3, 2023.
Present at the occasion were, Dr. Azra Pechuho, Minister for Health & Population Department, Government of Sindh; Dr. Abdul Hameed Jumani, Director, Health Services, Karachi Division; Dr. Saqib Ali Shaikh, Additional Director Prevention, Karachi Division; and Dr. Ejaz Khanzada, Chief Consultant Health Department.
Several senior leaders at IHHN were also in attendance, including, Dr. Abdul Bari Khan, President of IHHN; Dr. Naseem Salahuddin, Head of Department, Infectious Diseases, IHHN; Syed Mashhood Rizvi, Executive Director, Communication & Resource Development, and Chief of Staff to President, IHHN; and Aftab Gohar, Manager, Rabies Prevention & Training Center, Infectious Diseases, IHHN.
The purpose of this MoU is to conduct Rabies Postexposure prophylaxis (PEP) training workshops, with the aim to train master trainers in the management of dog bite cases according to current WHO guidelines; IHHN will also advise the centers for providing wound wash facilities, maintaining uninterrupted supplies of anti-rabies vaccine and rabies immunoglobulin.
Under the new partnership, IHHN agrees to conduct a 3-day training workshop at Indus Hospital, Korangi Campus, while the HD-GOS will facilitate the organization of the workshops and arrange all the essentials at the respective hospitals. The key points under this MOU are:
Establishing/ Strengthening Rabies Prevention Centers at government hospitals across the province
Hands-on training of health care professionals as per WHO's current recommendations on rabies PEP
Post-training Monitoring & Evaluation of all the centers
The Indus Hospital and Health Network (IHHN) has been at the forefront of preventing rabies. With a state-of-the-art Rabies Prevention and Training Center at the Korangi Campus, IHHN treats thousands of dog bite patients per year and saves them from fatal rabies.