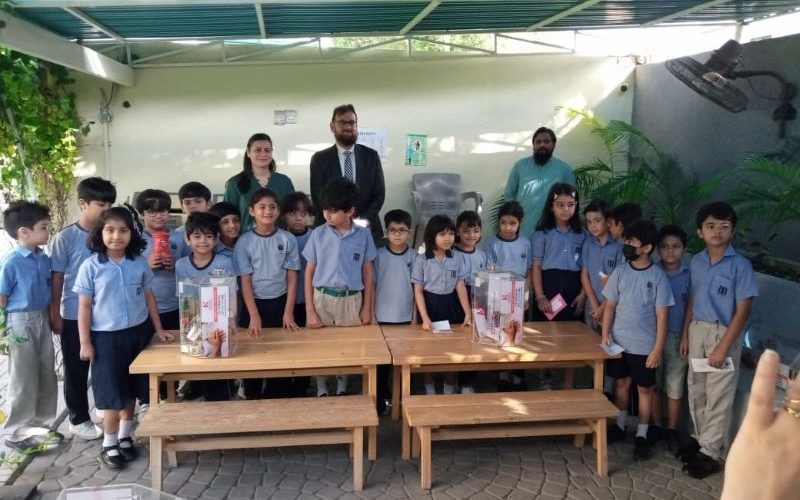 Indus Hospital & Health Network signed a Memorandum of Understanding (MoU) with Haque Academy on April 11, 2023. The agreement was signed by Dr. Abdul Bari Khan, President of IHHN, and Maria S. Haque, Director, Haque Academy.
Under the new partnership, students will be inducted into Indus Yaqeen – IHHN's youth engagement program – and will be given the opportunity to become IHHN ambassadors and participate in various awareness & fundraising events. Students will also be offered the chance to partake in i-Hope Program – IHHN's summer and winter volunteer program.
In addition to this, Health Education sessions will be conducted by experts from IHHN for the parents, staff, teachers and students of Haque Academy. The two parties will also collaborate to organize a blood drive on school premises to help donate safe, quality blood for needy patients.
The MoU signing took place during a visit by Dr. Abdul Bari Khan to the school, during which a Tarbiyat Saving Box collection activity was also conducted with the KG-Grade 9 students who shared heartwarming stories of saving their personal allowances and raising funds in their community. The collected funds were handed over to IHHN and will be used to provide free-of-cost quality healthcare to those who need it most.
Indus Hospital & Health Network is proud to partner with Haque Academy, a prestigious organization who is committed to helping IHHN empower students to take initiative and lead Pakistan into a healthier and happier future.