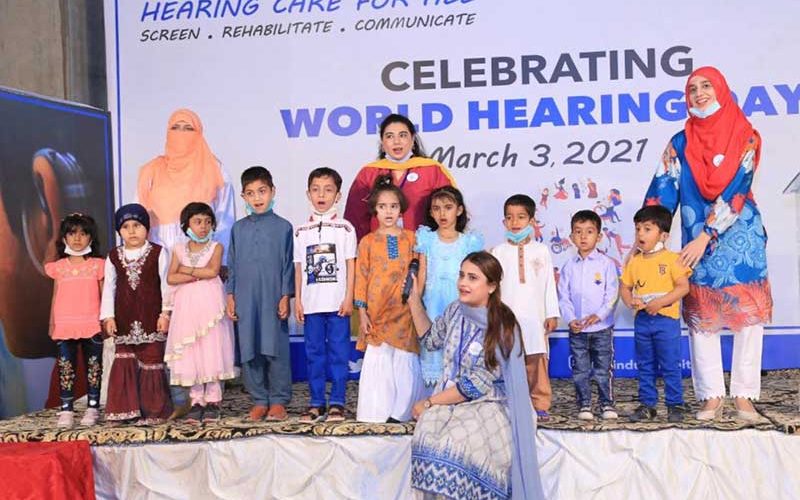 KARACHI: Every year, World Hearing Day is celebrated to raise awareness of how to prevent deafness and hearing loss. The theme for this year was "Hearing care for all!".
To mark the day and to highlight its work, the Ear Nose and Throat (ENT) Department of the Indus Hospital & Health Network (IHHN) celebrated the landmark of completing 100 Cochlear Implant surgeries.
Since 2014, Indus Hospital & Health Network's Cochlear Implant Program has been providing completely free-of-cost implant surgeries to patients. IHHN's program not only gives patients another chance to hear again but also focuses on the rehabilitative services such as speech therapy to enable these patients to communicate again.
To mark the milestone, the ENT Department hosted a session where Dr. Asif Arain, Head of ENT Department and Cochlear Implant surgeries, ENT specialists Dr. Anjum Naveed; Dr. Shakil Akhtar; Dr. Agha Aftab; and Speech-Language Therapists Anam Madhani; Rabika Amanullah Zuberi; Khadija Fatima, Audiologists Haya Yawar Awan and Tabassum Naz were present.
The session commenced with the recitation of the Holy Quran by Jaweria, a hearing aid recipient. During the session, the ENT team talked about the awareness of hearing loss and Cochlear Implants; importance of early detection of hearing loss; and timely intervention.
The program also included National Anthem performance by 7 Cochlear Implant recipients enrolled at Korangi Campus. Success stories were shared in the form of video testimonials and LIVE talks by Cochlear Implant recipients and their families.
District Headquarter Hospital, Badin also raised awareness in patients regarding newborn hearing screening and ear care by conducting a hearing screening camp in Badin. The camp included Oto-Acoustic Emission (OAE) testing and Pure Tone Audiometry.
In recognition of its efforts and taking part in World Hearing Day 2021 celebrations, IHHN received a certificate of appreciation from the World Health Organization.