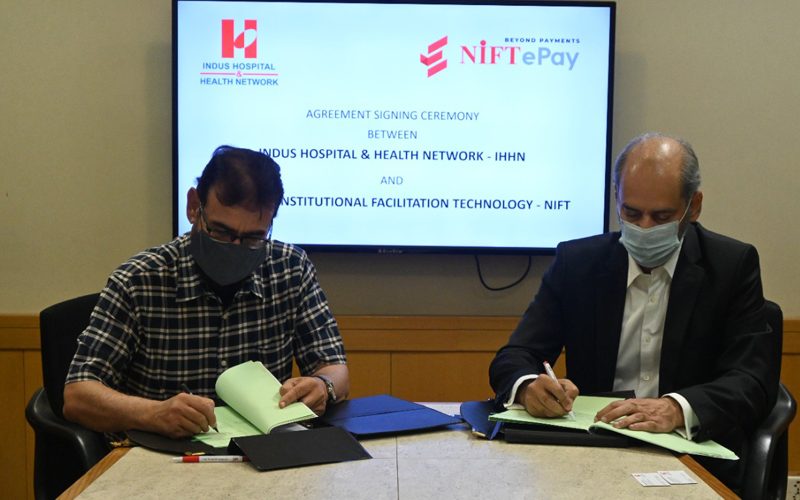 The Indus Hospital & Health Network (IHHN) is a progressive institution that is digitalizing itself for the convenience of its donors. The Network recognizes that the world is leaning more towards cashless transactions and e-payments and is translating its donor payment collections to minimize cash handling.
The Network, on Tuesday, June 1, 2021, signed a Memorandum of Understanding with the National Institutional Facilitation Technologies (NIFT) to streamline its payment collection system. The agreement was signed by Haider Wahab, CEO, NIFT, and Dr. Abdul Bari Khan, CEO, IHHN.
Under the terms of the agreement between the two parties, IHHN is partnering with the NIFT to establish the Network's presence on the NIFT's Digital Financial Services platform under the name "NIFT ePay." NIFT ePay has established a secure digital commerce payment system that will work with any bank account in Pakistan.
As the premier third-party processor in Pakistan, NIFT team delivers efficient and cutting-edge services as they continually find ways to improve and adapt. Their goal of keeping Pakistan's financial channels running smoothly and ahead of global security trends has led to them being the largest payment processor in the country.
Speaking at signing ceremony, Dr. Bari Khan said, "I'm delighted that we are entering into an agreement with NIFT. It will help IHHN advance digitally, and our donors will benefit from it as it will smoothen the payment process. I hope that NIFT will continue to support IHHN in the future as well."
Haider Wahab said, "We are proud and honored to be working with Indus Hospital & Health Network and it's a privilege to be associated with their noble cause. Any assistance to this great cause in expanding the reach and bringing ease to donor transaction through NIFT ePay will be our small contribution and support. This is exactly the vision that was behind NIFT ePay and it is very heartening to see its actual manifestation in the market."