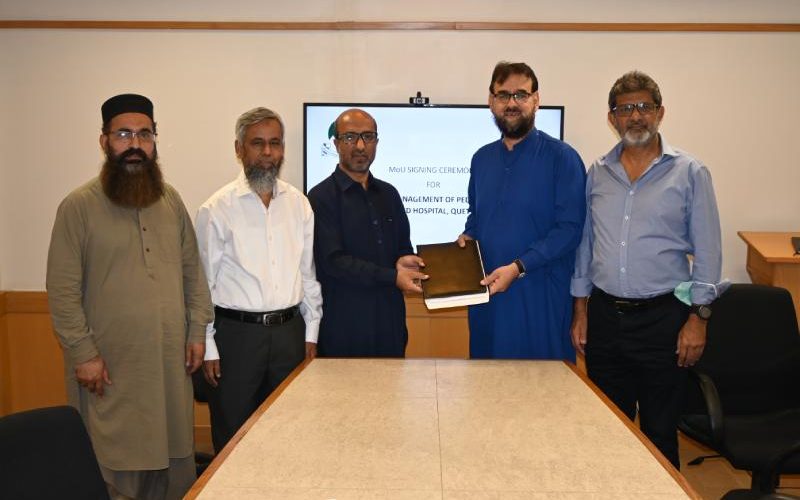 The Indus Hospital & Health Network (IHHN) signed a Memorandum of Understanding (MoU) for the Initiation and Management of Pediatric Oncology Unit at the Sheikh Zayed Hospital, Quetta on April 11, 2021. The signing ceremony took place at The Indus Hospital, Korangi Campus. Dr. Abdul Bari Khan, Chief Executive Director, IHHN and Noor-ul-Haq Baloch, Secretary Health, Government of Balochistan signed the MoU.
Health Department, Government of Balochistan has the mandate to deliver quality healthcare services to the people through an efficient and effective service delivery system, which is accessible, equitable, culturally-acceptable, affordable, and sustainable. It aims at improving the health and quality of life of the people by providing them access to the essential healthcare services.
According to the MoU, the Health Department intends to handover management and operations of the Pediatric Oncology Unit situated at Sheikh Zayed Hospital, Quetta to IHHN and IHHN has agreed to undertake the responsibility in accordance with the terms and conditions mentioned in the agreement.
IHHN has a mission to alleviate suffering of the poor and the needy through provision of quality healthcare services by establishing and managing primary, secondary and tertiary care hospitals. The Network provides quality care without any charges and in order to do so it employs modern methods of curative and palliative therapy. IHHN provides free treatment to every patient without any discrimination of caste, creed, color, socio-economic status, gender, religion, and political association. IHHN has a proven and successful track record of providing best medical care throughout the country.
Dr. Shamvil Ashraf, Executive Director Medical Services, IHHN; Salim Razzaq Tabani, Member, Board of Directors, IHHN; and Dr. Rafie Raza, Head of Pediatric Oncology, IHHN were also present at the signing ceremony.