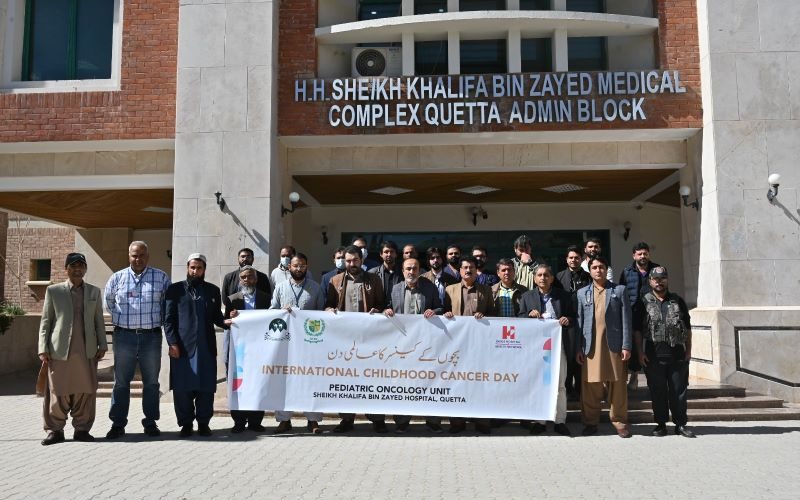 Indus Hospital and Health Network (IHHN)'s Pediatric Oncology Unit at the Sheikh Khalifa bin Zayed Hospital celebrated International Childhood Cancer Day (ICCD) on February 15, 2023.
The event was attended by the senior leadership of Indus Hospital & Health Network, distinguished outside guests, and the hospital's staff, healthcare professionals, patients, and their caregivers. All enthusiastically participated in the celebrations, which included a Cancer Awareness Walk.
Around 10,000 children are expected to get diagnosed with cancer every year in Pakistan. However, due to lack of access and unaffordability of treatment, approximately 70% of children diagnosed either abandon treatment or are unable to survive beyond 5 years of starting treatment.
Speaking at the event, Dr. Abdul Qadir Pathan, Senior Consultant Pediatric Oncologist, IHHN, said, "Indus Hospital & Health Network is committed to decreasing the number of preventable deaths by providing free-of-cost treatment to all children with cancer and increasing awareness about the global impact of cancer in communities across Pakistan. Since 2014, IHHN's multidisciplinary Pediatric Oncology Service has treated over 12,000 children for cancer and blood diseases."
Dr. Shamvil Ashraf, Executive Director, Medical Services Directorate, IHHN, noted the impact of IHHN's Pediatric Oncology Unit (POU) operating in Sheikh Khalifa bin Zayed Hospital, Quetta. The POU was established in 2021 under a public-private partnership with the Government of Balochistan and offers inpatient care, outpatient consultations, daycare, and routine procedures. The unit is serving the residents of Balochistan with free-of-cost, quality cancer treatment at their doorstep. Before the establishment of IHHN's POU, patients from Balochistan would have to travel all the way to Karachi to receive care.
Dr. Ayub Badini, Executive Director of Sheikh Khalifa bin Zayed Hospital, delivered closing remarks and applauded Indus Hospital & Health Network for bringing much-needed relief and quality care to the people of Balochistan.