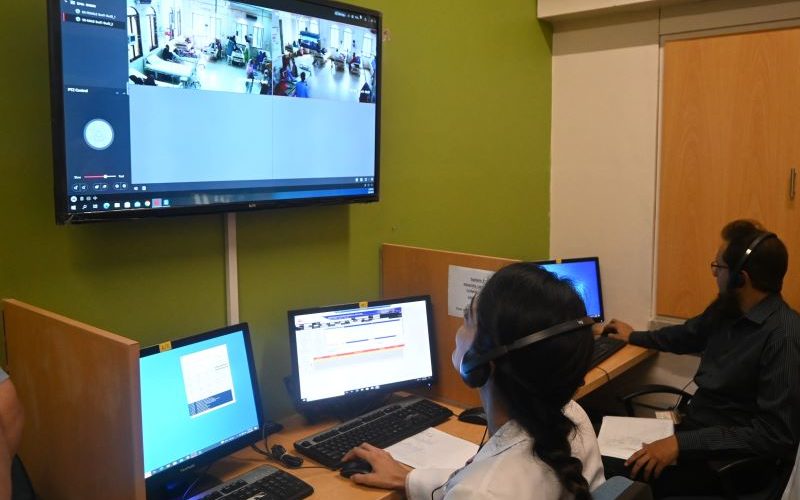 On March 24, 2023, Indus Hospital & Health Network (IHHN) held the inaugural ceremony of the first of its kind endeavor – The Tele-Emergency Medicine (EM) Project – initiated by IHHN's Emergency Department for the provision of holistic patient care at District Headquarter (DHQ) hospitals in Badin and Gwadar.
Emergency care is an important component of a healthcare system needed to effectively manage acute care illnesses. Despite its rising demand in Pakistan, the field has been underprioritized and faces a dire lack of resources and competent healthcare professionals. In Pakistan, the health sector is plagued with limited resources and trained personnel – 75% of the Pakistani population lives in rural areas and is served by only 22% of doctors. Remote and rural areas lack specialty services, trained personnel, and appropriate equipment. This creates a hiatus in the delivery of adequate emergency care. Tele–EM, despite being an under-explored field in Pakistan, has great potential to improve the quality of services and patient outcomes in remote health centers. Through this service, underserved healthcare facilities may be able to access specialist support that is otherwise lacking.
IHHN's Tele-EM project extends 24/7 real-time teleconsultations from Qualified EM physicians from the Emergency Department (ED) at the Indus Hospital, Korangi Campus, for High Acuity adult patients presenting in the EDs of DHQ Hospitals in Badin and Gwadar. This service will regulate the management of acute emergencies, train EM physicians onsite, and streamline ED process flow and floor dynamics in the DHQ hospitals.
IHHN's Tele–EM Project endeavours to uphold the vision of IHHN and provide access to free-of-cost quality healthcare to all patients in need. Overall, the initiative will work to reduce disease burden, patient mortality, ED waiting times, and length of stay, and improve patient satisfaction at the IHHN-managed DHQ Hospitals. In addition, the project will empower IHHN's workforce with the expertise to identify and effectively manage acute emergencies, provide initial care, and practice safe transfers where required. Currently, the Tele-EM Project services are extended at the IHHN-managed DHQ hospital in Badin. In the future, this project will be launched at DHQ Hospital in Gwadar as well.
Dr. Sama Mukhtar, Consultant, EM, IHHN, led the inaugural ceremony, which was attended by IHHN's senior leadership, including Dr. Abdul Bari Khan, President; Dr. Syed Zafar Zaidi, CEO; and Dr. Muhammad Shamvil Ashraf, Executive Director, Medical Services. IHHN's Chairman, Board of Directors, Mr. Abdul Karim Paracha, also graced the occasion. Mr. Karim Paracha and family have been long-term patrons of the use of tele-health in the pursuit of achieving Health for All. The Paracha family have pledged to support the development of all IHHN tele-health clinics, with a most generous pledge of PKR 1 billion over five years, along with a commitment to increase their pledge given the success of tele-health.
Also present were Mr. Shakeel Akhtar, Chief Information Officer; Dr. Ashar Alam, Medical Director, IHHN Korangi Campus; Dr. Saima Ali, Head, EM Department; Dr. S. Ghazanfar Saleem, Chair EM Services; Dr. Adeel Khatri – Consultant, EM; Imran Jamal; and Tariq Aziz, nursing.