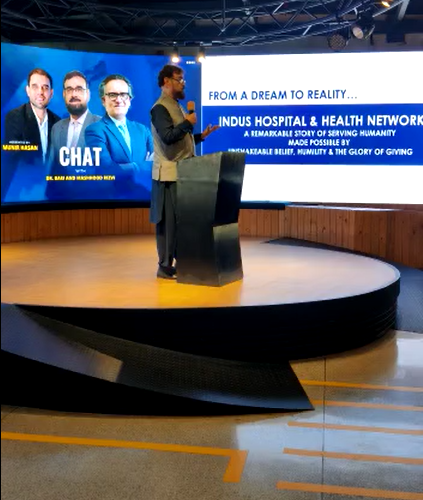 The Management of Indus Hospital and Health Network visited the Head office of Unilever in Karachi, on February 17, 2023. The purpose was to create awareness regarding IHHN's various initiatives to achieve sustainable growth and to invite all employees to support IHHN as it continues expanding its footprint across Pakistan to deliver free-of-cost, quality healthcare to all.
Senior leadership from IHHN was in attendance, including Dr. Abdul Bari Khan, President of IHHN; Mr. Syed Mashhood Rizvi, Executive Director, Communications & Resource Development, along with his team. Mr. Amir Rasool Paracha Chairman & Chief Executive Officer, Unilever Pakistan Limited, and the organization's Director and Senior Manager, were also in attendance.
Dr. Abdul Bari Khan briefed the audience on IHHN's fifteen-year journey in which the Network evolved from a single hospital in Korangi, Karachi, to Pakistan's largest nationwide healthcare network in the private sector. Currently, IHHN comprises fifteen hospitals, four physical rehabilitation centers, four regional blood centers, thirty-six primary care sites, and multiple public health initiatives. The Network is serving free-of-cost excellence in healthcare to approximately 500,000 patients in need every month.
Speaking at the occasion, Mr. Mashhood Rizvi introduced 'Subscribe to Save Lives' and invited the attendees to join this newest initiative, Subscribe to save Lives – League of 100,000 Heroes. The initiative aims to create a community of corporate influencers who can play an important role in opening avenues for IHHN to establish a sustainable resource that can give recurring donations of PKR 10,000 per month.
Presently, IHHN needs approximately PKR 1 billion a month to treat the growing number of patients across the Network. By creating a league of 100K- heroes, each of whom donates PKR 10K each month, IHHN will be able to meet this goal and uphold its mission of Healthcare for All.
Mr. Amir Paracha gave closing remarks at the event. As a longtime supporter of IHHN and one of its Corporate Ambassadors, Mr. Paracha thanked the team from Indus Hospital & Health Network for providing the opportunity to better the health and well-being of the people of Pakistan. He also promised to extend his support to IHHN in the future.