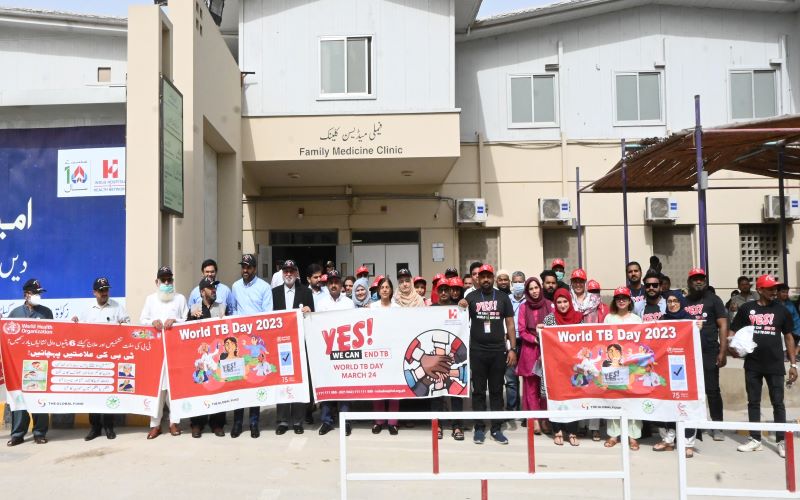 The TB Department and Department of Infectious Diseases (ID) at Indus Hospital & Health Network held a commemorative event on World TB Day 2023. The event raised public awareness of the global TB epidemic and affirmed IHHN's commitment to eradicating TB in Pakistan.
Several departments participated in the event, including Pulmonology, OB/GYN, Pediatrics, Woodcraft lab, and Communication & Resource Development. Distinguished members from the CDC Sindh, including Dr. Saleem Kazmi, Senior Provincial Program Officer, CDC TB Control Program, Sindh, also participated in the event activities.
The event started with a seminar in which several notable speakers spoke about TB and urged decision-makers in the audience to scale up efforts to end the global TB epidemic. Opening remarks were given by Prof. Dr. Sohail Akhtar, HOD Pulmonology, IHHN, who explained the burden of the disease, the importance of compliance, and contact screening for TB.
Dr. Farhana Amanullah, Senior Consultant, Department of Pediatrics, IHHN and Chair of Childhood TB, Stop TB (WHO), spoke about the burden of disease in children and how much it impacts their health, the need for early diagnosis as well as preventive therapy.
Dr. Nazia Khurshid, Chair, Pathology, IHHN, explained the latest guidelines in diagnosing TB patients, including using a genexpert as the primary detection source. She also spoke about how effective communication between lab personnel and doctors is key to the timely diagnosis and treatment of patients.
Dr. Saleem Kazmi, Senior Provincial Program Officer, CDC TB Control Program, Sindh, spoke about the incidence of Sindh cases and the change in the number of detections after multiple genexpert sites opened in Sindh. He also shared all the interventions the Government of Sindh has done to help improve access, diagnosis, and treatment of Tb patients across the province.
Dr. Naseem Salahuddin, HOD, ID Department, gave closing remarks. She explained the need for early diagnosis and the dire need to understand that TB prevention is only likely if all factors are considered, including social, psychological, environmental, etc.
The seminar was followed by a commemorative awareness walk and an in-house awareness session conducted by Pediatric TB specialists Dr. Iraj Batool and Dr. Naseem Salahuddin.