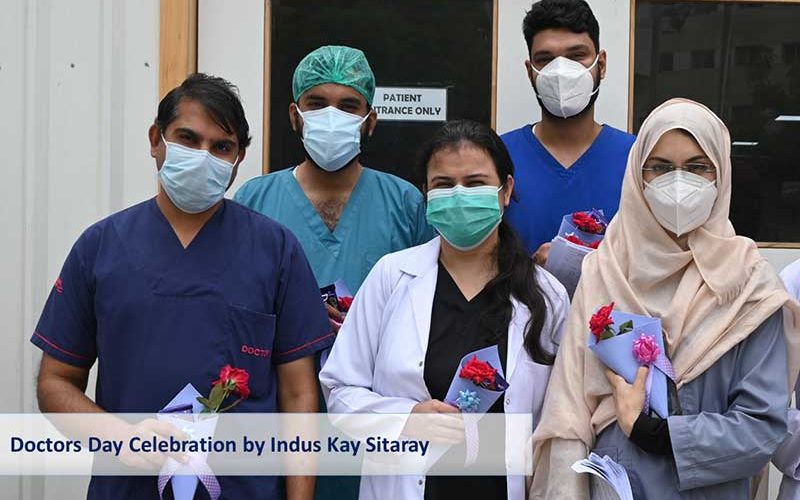 The students and faculty of Indus Kay Sitaray (IKS) celebrated Doctors' Day with gift baskets for the COVID Unit, Pediatric Oncology staff and other faculty of the Indus Hospital, Korangi Campus.
The children worked with zeal and enthusiasm in the morning as they made the final preparations before heading out to hand the doctors their presents.
Fifteen-year-old Nigaar was excited as she worked closely with a friend to wrap the gift baskets. Dr. Ghulam Qadir, Pediatric Oncologist is her consulting physician, and when asked about her time with him she said, "He's my absolute favorite. He speaks with me in Farsi, which is my mother tongue, so I enjoy our talks whenever he is here. Aur mujhay school bhot pasand hai, aur main shukriya ada karna chahti hu apni teachers aur doctors ka (And I like my school very much, and for that I would like to thank my teachers and doctors)."
The children marched out of the school, gift bags and Thank-You banner in tow, as they visited the hospital's different departments. Dr. Waira Zainab, a medical officer from the COVID Unit, was pleasantly surprised by the children's arrival.
"It's been a difficult time for us during the pandemic, but this beautiful presentation and gifts from the children have brought all of us a lot of joy," she said, "and their thoughtfulness and gratitude have made our day."
Dr. Seema Habib, a medical officer of the Pediatric Oncology Department, and the staff took pictures with the children as, one by one, they handed each doctor a gift basket. She appreciated the initiative taken by the children and staff of IKS and said, "This means a lot to everyone here, and we're glad that the children are having a small field trip around the hospital and meeting with the staff. It will definitely motivate and cheer them up, as we are."
After spending the day visiting various faculty members, they met with Dr. Abdul Bari Khan, CEO, Indus Hospital & Health Network (IHHN). The children presented him with his gift basket, which he accepted with a smile and a hug. He said, "This is a heartwarming moment, and seeing these children enjoying themselves and interacting with the staff is very moving."
Once they delivered all the gifts baskets, the children and faculty headed back to the classroom, exhausted but proud of themselves as they concluded their first-ever celebration of National Doctors' Day at the Indus Hospital, Korangi Campus.