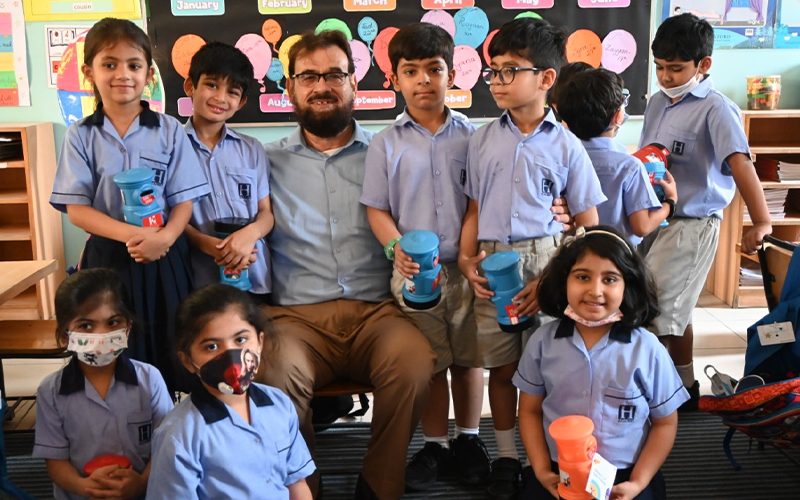 On Wednesday April 20, 2022 Dr. Abdul Bari, CEO, Indus Hospital & Health Network along with IHHN team was invited by the Haque Academy to collect the donations saved by their students of their Primary Section. It was a truly wholesome and inspiring experience to see these young kids being so excited to donate and share their contribution to help the patients at IHHN. Some of the students came up with innovative ideas to save money such as running entrepreneurial ventures of giving massages to friends and family or going to their parent's work place and asking the people there to donate for a good cause.
This activity was arranged under IHHN's initiative of Indus Tarbiyat which is a program that envisions to create conscientious citizens, who will benefit the country in their individual capacity. Through Indus Tarbiyat IHHN aims to target the youngest members of the society and instill in them the values of compassion, giving back to the community, and that kindness breeds kindness.
This CSR initiative taken by Indus Hospital & Health Network, aims to teach the younger generation that their simple act of kindness can go a long way and make a difference in the world. Through the Indus Tarbiyat program we have a campaign "Box of Kindness" under which we provide the children with saving money boxes to inculcate in them the habit of saving and sharing their blessings with the less fortunate.
In regard this initiative IHHN collaborated with Haque Academy and distributed 700 Indus Tarbiyat money boxes to the students who were briefed about the activity by the school and were asked to save to help IHHN for the noble cause of providing quality healthcare, free of cost and saving many precious lives.