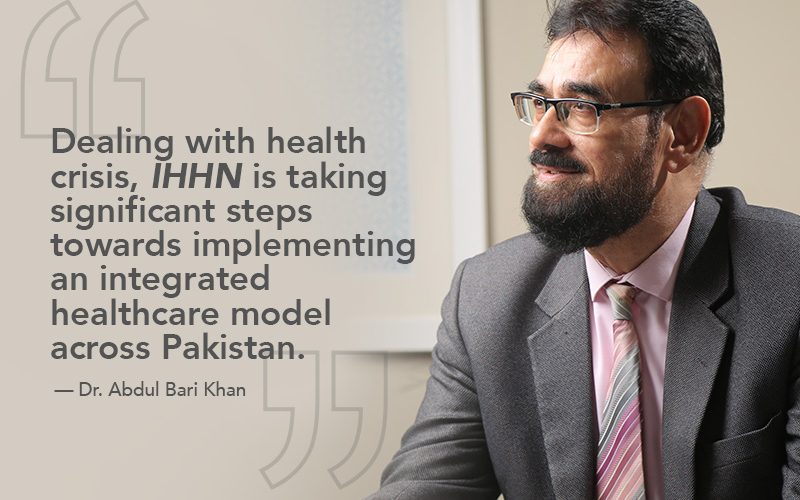 PAGE: Tell me something about yourself and Indus Hospital & Health Network, please:
Dr. Abdul Bari Khan: I was born in Karachi in a family originally from Peshawar. To my good fortune, my family was widely known for their piety, alturism, compassion and generosity towards community and humanity. I consider myself blessed to have inculcated these values since childhood and have tried my best to live my life promoting and practicing the same. My childhood, college and higher education is from Karachi and I feel fortunate to have been able to partake in community service since my youth by being involved in healthcare projects since my college days. During my time at Adamjee Science College, I was awarded 'Best Social Worker Gold Medal'. I graduated from Dow Medical College, Karachi in 1986.
As a medical student, I was associated with the Patients' Welfare Association (PWA) as a project in-charge of the Blood Bank and Blood Fractionation Unit. After completing my MBBS, I was lucky enough to lead the PWA project to establish the New Emergency and Accident Unit of Civil Hospital Karachi through voluntary donations. I completed my fellowship in Cardiac Surgery in 1995.
While training at the National Institute of Cardiovascular Diseases (NICVD), I facilitated the expansion of the operating facilities of the Institute through philanthropic support. After completing my fellowship in 1999, I joined Civil Hospital, Karachi as a Cardiac Surgeon but without a Cardiac Surgery Department.
In around two years, with the help of various donors and philanthropists, we was able to raise PKR 30.5 Million which helped establish the Department of Cardiac Surgery at Dow Medical College & Civil Hospital, Karachi. This would not have been possible without the philanthropy Pakistan displayed, and I am proud to have played a role in the Department of Cardiac Surgery which now serves as a model cardiac surgery ward of the country, providing free of cost Cardiac Surgery' to the non-affording patients.
Apart from my professional responsibilities, I also consider myself as a social activist devoted to promoting healthcare facilities and services in the country. I truly believe that private participation in public sector hospitals is the cornerstone to improving the health sector, and I feel lucky to have been given the opportunity to promote this in all my endevaours.
My college years at DOW were truly some of the best, and I have since been an active member of Alumni projects of Dowites '76, '77, '78 & '79. Beyond Civil Hospital, Karachi, I was fortunate enough to be entrusted by the Rufaydah Foundation as its Chief Executive Officer for establishing The Indus Hospital located in Korangi, Karachi. We started the hospital in 2007 as a 150-bed tertiary care facility providing absolutely free specialized surgical and medical care. This hospital in Karachi has now evolved into a healthcare network – Indus Hospital & Health Network, with presence in Karachi, Lahore, Multan, Muzaffargarh, Rahimyar Khan, Badin, and Quetta. We also have a country-wide network of primary care clinics along with disease-based outreach programs. I feel extremely blessed to have been given this platform through which we have helped various NGOs and professionaly bodies of the country. In all my endeavours, I have only operated to help the people of Pakistan and beyond to please Allah SWT – with everything else being secondary. I am sincerely thankful for being conferred Tamgha-e-Imtiaz in 2015 and Hilal-e-Imtiaz in 2018, although there is still work to be done for the provision of quality healthcare across Pakistan.
PAGE: Could you tell us about the idea of the formation of Indus Hospital & Health Network?
Dr. Abdul Bari Khan: To me it has never been about designations and money. Since my childhood, I've been taught to care for people . My father always told me to be good to people and by nature, I have always felt the paid of human suffering. So, naturally I was drawn towards medicine as a career. During the Karachi blast in 1986, which was a turning point for me, I saw first-hand the miseries of people needing urgent medical care. Instead of feeling powerless, I worked with some like-minded friends and colleagues and decided to take a practical step rather than criticizing the system.
I had always dreamt of setting up a model hospital to serve the under-privileged people of society. This dream hospital that I had created would not pressure the patient to pay exorbitant fees or buy medical aids. To make this dream a reality, we started our efforts in 2005, and by 2007, we were able to get hold of a non-functional hospital known as the Islamic Mission Hospital. We renamed the institution to The Indus Hospital (TIH). In the first decade of its existence, TIH evolved to become Indus Hospital & Health Network (IHHN) and expanded its services across Pakistan. In order to reach out to the most neglected population of the country, IHHN entered into various Public-Private and Private-Private partnerships with federal and provincial governments and other corporate and international partners. As a result, IHHN currently has 13 hospitals in Karachi, Badin, Bhong, Muzaffargarh, Lahore, and Multan. IHHN also has an extensive network of primary care clinics in the form of fixed, mobile, container, and boat clinics. With the support of international funding agencies, IHHN is running disease-based outreach programs in KP and Balochistan.
Recently, under another Public-Private Partnership (PPP) program, IHHN also runs a Pediatric Oncology Clinic in Sheikh Zayed Hospital, Quetta. IHHN is managing and running four Regional Blood Centers and four Physical Rehabilitation Centers in the country. However, it is important to not underestimate the importance of professional education while running a healthcare system, which is why we are creating the Indus University of Health Sciences. We received the charter in 2015 from the Government of Sindh. Three colleges are already functional and are providing education. While the Indus Hospital in Karachi has experienced many successes, we have also experienced extreme patient load. To cater to this, the flagship hospital of IHHN is undergoing a major expansion. The new hospital and university buildings are currently under construction at the Korangi Campus. Thanks to the philanthropy of Pakistan and beyond, we have also been fortunate to have been able to build an IHHN-owned, 600-bed multi-disciplinary, tertiary care hospital in Jubilee Town, Lahore, the Indus Hospital & Health Network – QF, NST & SMP Campus.
PAGE: What kind of hurdles you and your team went through in the initial years of Indus Hospital & Health Network?
Dr. Abdul Bari Khan: Human resources for health are identified as one of the core building blocks of a health system. A robust workforce is a sine qua non for any organization to operate in a productive manner to achieve its goals. Currently in Pakistan, the surgeon, anesthesiologist, and obstetrician workforce density is < 1 per 1,000 people, and the nurse-to-physician ratio is 1:2; both of which do not comply with international standards. In the beginning, Indus went through an acute shortage of skilled, experienced, and empathetic workforce. However, over time the situation has improved. The establishment of the Indus University of Health Sciences is an effort to improve the situation by producing world-class healthcare professionals. The University will consist of seven colleges, and three of them are already functional at the Korangi Campus while some new ones are in the pipeline. Following the example of Karachi, the Lahore hospital would also accompany a medical university.
PAGE: How imperative is it to get government support in addition to the donations and zakat for the smooth functioning of Indus Hospital & Health Network?
Dr. Abdul Bari Khan: Provision of healthcare services is one of the basic responsibilities of the state. However, most governments fail to provide these services, and as a result, private healthcare services also emerge. Indus came into existence based on self-help, and it solely runs on the donations and zakat provided by common people to whom I am forever grateful on both, a personal and professional level. However, every day the healthcare needs increase manifold, and in order to function properly, Indus entered into partnerships with federal, provincial, and local governments of the country. In the health sector, Public-Private Partnerships are defined as institutional relationships between the government and the private sector to achieve a shared health goal based on a mutually agreed division of labor and resources.
With the assistance and funding provided through Public-Private Partnerships, IHHN has expanded its network throughout Pakistan and has made significant steps towards achieving its goal of providing quality, free-of-cost healthcare to all Pakistani citizens. In Sindh, IHHN, in collaboration with the Government of Sindh with whom we have had a long-term relationahip, is running the Blood Bank at Civil Hospital, Thatta. In addition, in July 2019, under PPP, the Government of Sindh commissioned the Regional Blood Center at Liaquat University of Medical and Health Sciences, Jamshoro, with six associated hospital-based blood banks. It is also running the District Headquarter Hospital, Badin, since 2015.
In addition, in February 2021, IHHN established a dedicated Pediatric Hematology and Oncology Clinic at the DHQ Badin to treat childhood cancer patients. After seeing the improved health indicators of Badin, the Government of Sindh and IHHN decided to take a step further by establishing the Physical Rehabilitation Center to help physically challenged people. During the COVID-19 pandemic, we helped the Government of Sindh set up a 100-bed Quarantine Center in Dumba Goth and a 120-bed COVID-19 Hospital in Gadap Town, and a 20-bed COVID-19 Unit in Badin. In Punjab, IHHN is managing seven government-run hospitals. Tehsil Headquarter Hospital (THQ), Bedian Road, THQ Manawan, THQ Raiwind, THQ Sabzazar, and THQ Kahna Nau, Lahore. In addition, the Multan Institute of Kidney Diseases and Recep Tayyip Erdogan Hospital (RTEH), Muzaffargarh, are also under the management of Indus Hospital & Health Network. RTEH was designated as a major referral center for COVID-19 in South Punjab with a mutual understanding of IHHN and the Government of Punjab. Moreover, it is running two blood centers in Punjab — in Multan and Bahawalpur. Indus also has a Physical and Rehabilitation Center in Punjab. In Baluchistan, Indus has established and running a Pediatric Oncology Unit at the Sheikh Zayed Hospital, Quetta. Moreover, the Network is also working with the provincial health department for the eradication of Malaria in 21 target districts.
PAGE: What changes could we witness at Indus Hospital & Health Network five years down the line?
Dr. Abdul Bari Khan: We are making substantial efforts to create an integrated model of healthcare which would consist of primary care units, secondary and tertiary care hospitals throughout the country. However, Indus is focusing on providing primary care, and in the near future, we can see an extensive network of community health centers emerging. In order to make the community empowered, we are engaging the catchment population so that they could be involved in decision making process. It will lessen the burden on tertiary care hospitals and will improve the healthcare indicators of society. I truly believe our efforts will also have a serious and positive impact on Pakistan's Sustainable Development Goals.
Pakistan & Gulf Economist Magazine (PAGE):
https://www.pakistangulfeconomist.com/2021/09/27/indus-hospital-soon-to-be-integrated-model-of-healthcare/amp/