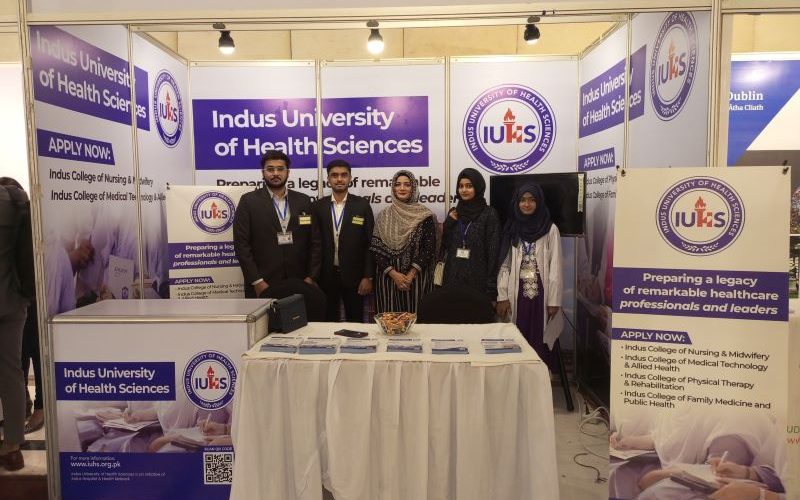 Indus University of Health Sciences (IUHS) participated in the Dawn Education Expo 2023 alongside many other prestigious universities from Pakistan and beyond. The expo was held at Pearl Continental Hotel, Karachi, from February 4-5, 2023.
Dawn Education Expo is the longest-running education fair in Pakistan and was organized by the Dawn Group of Pakistan. Its objective is to collect all universities and colleges under one roof and bring prospective students face-to-face with representatives from higher education institutions worldwide.
IUHS comprises seven colleges, of which four are currently operational: Indus College of Nursing & Midwifery, Indus College of Medical Technology & Allied Health, Indus College of Physical Therapy, and Indus College of Family Medicine and Public Health (ICFMPH).
Representatives from each college attended the expo to meet prospective students and brief them on IUHS's promising healthcare degrees, offering evidence-based and transformative education at undergraduate, graduate, and postgraduate levels. Dr. Syed Zafar Zaidi, CEO of IHHN, was also in present at the event.
Indus Hospital & Health Network is grateful to the Dawn Group of Pakistan for the opportunity to take part in this novel event. IHHN looks forward to future events to exhibit the remarkable work being done by the students of IUHS who form the future generation of competent healthcare professionals dedicated to improving the healthcare landscape of Pakistan through compassion, empathy, and dignity.