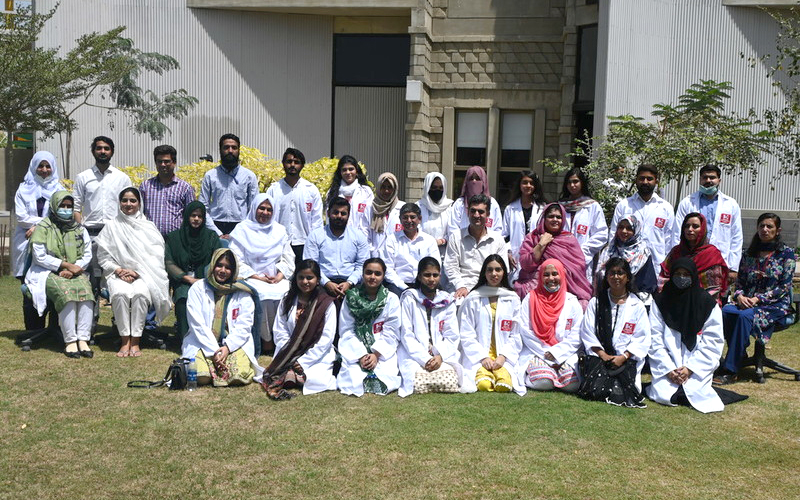 The Indus University of Health Sciences (IUHS) held the 'White Coat' ceremony for the 2022 batch of Doctor of Physical Therapy (DPT) students and Bachelor of Science of Medical Technology (BSMT) students. The ceremony was held on April 1, 2022.  
The ceremony was chaired by Dr. Zafar Zaidi, CEO of IHHN, who impressed the importance of this milestone and urged the newly admitted students to focus on their academic and co-curricular activities to emerge as competent, ethical health professionals of the future who will make their country proud. 
Addressing the students, Dr. Zaidi said, "The white coat you are wearing today is not just ceremonial; it is the beginning of a journey of passion, humanity, sacrifice, thrill, adventure, burden, and responsibility. By wearing a white coat, you are choosing to dedicate your life to the needs of others." 
Dr. Atiya Rohilla, Principal of Indus College of Medical Technology and Allied Health, and Dr. Farrukh Siddiqui, Principal of Indus College of Physical Therapy & Rehabilitation, were also present at the occasion, along with the heads and faculty of all other IUHS programs.   
The ceremony signifies the beginning of medical students' journeys and confers a sense of responsibility and privilege of joining this Nobel profession. It also symbolizes professionalism, care, and trust, which they must earn from patients. 
At the end of the ceremony, esteemed faculty members welcomed the students into the medical profession by handing over a White Coat.