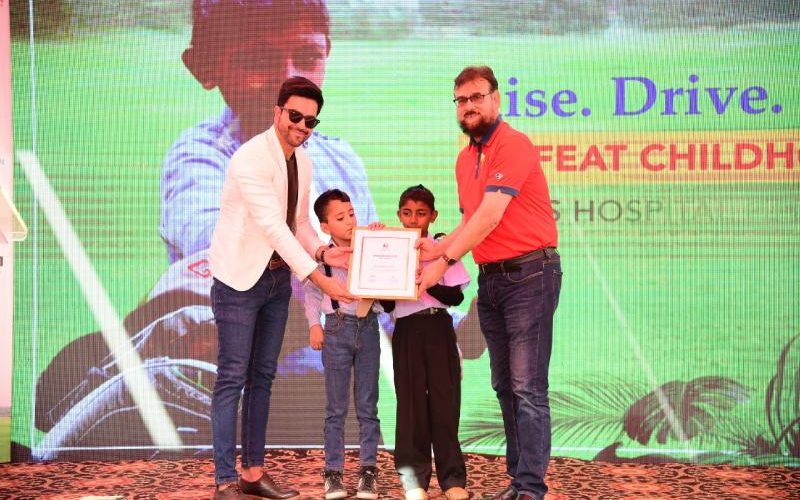 The Indus Health Network launched its I – Indus Ambassadorship program a few months ago. Several media and sports celebrities and influencers have joined i- Indus to support the mission of The Indus Hospital of free and quality healthcare for all. The recent addition is the well-known lead singer/ composer of the famous 'Call Band' turned actor Junaid Khan.
Mr. Khan was presented the i- Indus Ambassador Certificate by Pediatric Cancer survivors, Dr. Abdul Bari Khan, CEO Indus Health Network and other senior members of the management in the 5th Annual Golf Tournament that was organized in the Karachi Golf club on February 09, 2020. Mr. Khan was the chief guest at this fundraising golf tournament.
Speaking at the event, Mr. Khan appreciated the efforts of the Indus Hospital and said: "I visited The Indus Hospital a few days ago and had the chance to meet people from all walks of life; the patients, visitors, doctors, teachers, hospital management and the volunteers. The one common thing I saw on everyone's face was HOPE and contentment. Patients- because they felt comfortable knowing they were at the right place and that they will be looked after like one of their own. The hospital staff- because they knew their passion for saving humanity is fulfilled by working for such a trust worthy organization. I left the space inspired and was filled with hope that one day if I am able to do something good during the course of my life and when I will be presented in front of the Lord Almighty, I will be relieved to some extent that I made use of my existence. Thank you so much INDUS HOSPITAL, for considering me a part of your family. Together we will try to work towards a better Pakistan where healthcare is of utmost importance."
Mr. Khan also appreciated the paintings of the childhood cancer patients that were on display at the event. He listened to the story of each of the featured young artists and showed his support by purchasing one of the paintings.
The causes selected by him are; Save Blood and HIV. He will especially be focusing his efforts on these two causes.
i-Indus Ambassadorship Initiative is aimed at utilizing the star-power of celebrities to further the cause of the Indus hospital for free and quality healthcare for all.