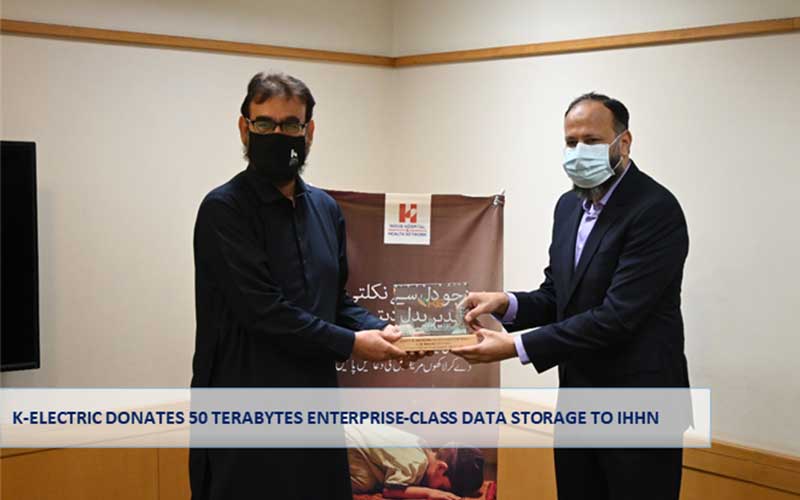 May 21, 2021
KARACHI
Continuing with its long-standing partnership with Indus Hospital & Health Network (IHHN), K-Electric (KE) has donated an enterprise-class data storage system, which will help IHHN in upgrading its database and infrastructure. Enterprise storage is a centralized repository for business information that provides common data management, protection and data sharing through connections to computer systems.
In an event held at The Indus Hospital, Korangi Campus on Friday, May 21, 2021, KE — Karachi's sole power supplier — donated IHHN an additional 50 terabytes of data storage as part of its Corporate Social Responsibility. Their assistance will help further strengthen IHHN's paperless healthcare system.
The enterprise-class storage, designed to ensure high-end performance and reliability, will benefit approximately more than 850,000 patients annually. It will provide space to accommodate the IHHN's ever-growing Picture Archiving and Communication System (PACS) and deliver a performance boost that will improve the quality of healthcare services.
The event was attended by Moonis Alvi, CEO, KE; Zehra Mehdi, Director Sustainability Management, KE; Akrama Alam, General Manager Infrastructure, KE; Dr. Abdul Bari Khan, CEO, IHHN; Mashhood Rizvi, Executive Director, Communication & Resource Development, IHHN; Saleem Qureshi, Head of IT, IHHN; and Zaki Usmani, Senior Manager, Resource Development, IHHN; among other officials.