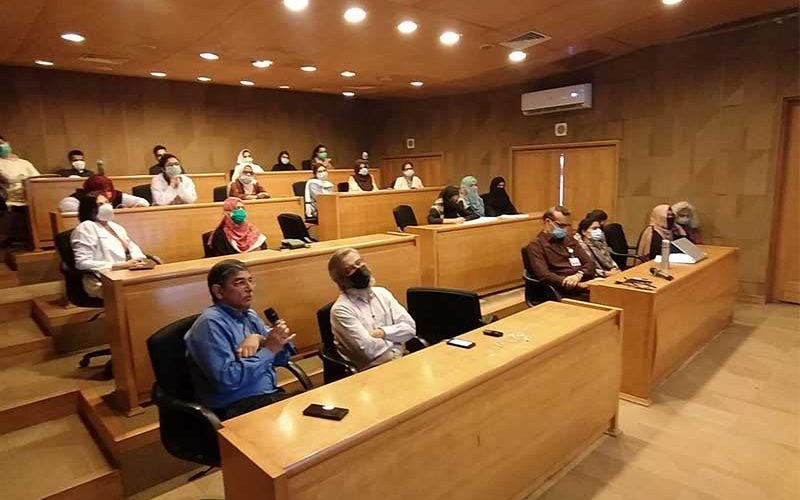 Renowned Pakistani novelist and playwright Amna Mufti spoke about the importance of education and upbringing of children in today's world at Indus Hospital and Health Network's (IHHN) "Koocha e Fun o Sukhan" — a literary platform which provides an outlet for the audience to enjoy the beauty of prose, poetry, and other genres of art.
The program, which resumed its activities on Friday, March 19, is hosted by IHHN for its healthcare professionals as a means of destressing from their demanding jobs.The Network values its healthcare professionals and takes every necessary step for their professional and personal well-being and growth.
Ms. Mufti, who is famous for writing on unique topics and has worked on notable dramas such as Jahez, Sabz Pari Laal Kabootar, Ullu Baraye Farokht Nahi, Aakhri Station, and Dil Na Umeed Tou Nahin, spoke about the importance of education and upbringing in today's world.
She talked about the general regression in society, the loss of moral and ethical values, importance of material gains over humanity, and their impact on the upbringing of children and their behavior towards society. She stressed upon the empowerment of women, especially of mothers.
"Mothers act as the first academy for children and are more responsible than anyone else for the upbringing of the children. So if she is educated, empowered, and respected she can instill these traits and qualities in her children," the novelist said.
She also talked about the lack of respect for teachers, adding that it was one of the reasons for the downfall of the Pakistani society.
Dr. Zafar Zaidi, Dean, Indus University of Health Sciences and Executive Director IHHN; Dr. Naseem Salahuddin, Head of Infectious Diseases and Rabies Free Program; Dr. Samreen Sarfaraz and others also participated in the discussion.
The program was hosted by Dr. Kamran Ahmed, Senior Orthopedic Consultant, The Indus Hospital, Korangi Campus and attended by senior officials and faculty members of IHHN.
The Indus Hospital, Korangi Campus' staff joined the talk via Zoom