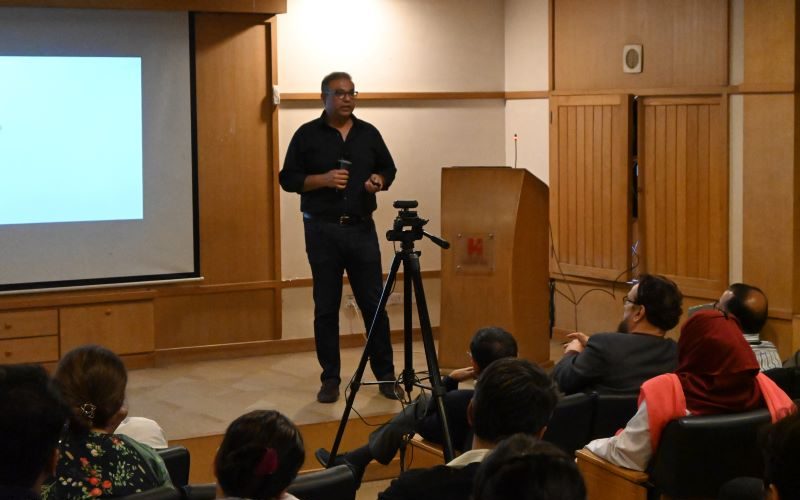 Indus Hospital and Health Network (IHHN) held its fifth session of Koocha e Fun o Sukhan on December 29, 2022. The session was hosted by Umair Khan who gave an engaging talk on how digital innovation and entrepreneurship can make healthcare more human, and IHHN's role in the future of Healthtech (digital healthcare).
Umair Khan is a visiting professor at UC Berkeley's College of Letters and Science, and has helped launch several successful businesses. He holds the following titles: Founding Partner, Mentors Fund (a Seed Stage Venture Fund); Founder, Folio3 (a Software Innovation House); and Co-Owner, Zareen's (a Michelin Guide Recommended Restaurant).
The Future of Healthtech
Mr. Khan's talk went over several topics including common fears, misconceptions & expectations surrounding technology, digital tech and their applications, understanding entrepreneurship, the entrepreneurship life cycle, and digital innovation in a large organization needed for long-lasting success.
Mr. Khan argued that contrary to popular belief, healthcare technology actually works to make healthcare more human-centric. This includes recent innovations such as Machine-Learning in Radiology (which will be able to catch human biases and oversights), Robotic Surgery, Drug Discovery (using AI), and Personalized Medicine (where AI will help doctors take patient history, age, and genetics into account to craft precision drug dosage and combination).
"I fundamentally believe that technologies like these are helping the healthcare field become more human and connected. After all, doctors and nurses are not going anywhere, these techs just help make things easier for them and allow quality patient-care to take center-stage in the healthcare landscape."
IHHN's role in Healthtech
Mr. Khan's talk concluded with a thorough overview of Pakistan's current healthcare landscape which includes telehealth, online pharmacy, healthcare management systems, legacy players, etc. He went on to explain that within Pakistan, many patients get caught up in the myths and exaggerations surrounding Healthtech (digital healthcare) and need to be guided by a competent leader. This is where IHHN, as a trusted healthcare provider, has the opportunity to step in and innovate the field of human-centric healthcare based on the specific challenges and available resources present in Pakistan.
For this the people of Indus must not only encourage innovation and entrepreneurship within the organization but also invite startups and young innovators within Pakistan to come and tackle the healthcare problems.
"Indus has already achieved success as evidenced in its growth in the past 15 years. There is no doubt in my mind that Indus Hospital & Health Network will further advance from Success to Significance which is when other organizations – both in Pakistan and abroad – will look at you and copy your model of care."
The session concluded with a question & answer session with the audience which included members from the Network's senior leadership, and the heads of various departments at The Indus Hospital, Korangi Campus. Afterwards, Mr. Khan was presented with a Shield of Appreciation by Dr. Abdul Bari Khan, President of IHHN.
Background
Indus Hospital and Health Network (IHHN) values its healthcare professionals and takes every necessary step for their professional and personal well-being and growth. Koocha e Fun o Sukhan is a holistic program that provides a platform for the audience to enjoy and learn about philosophy, prose, and various forms of art and technology. It is hosted by the Network for the benefit of its staff as a means of de-stressing from their demanding jobs, and achieve growth outside of their professional lives.