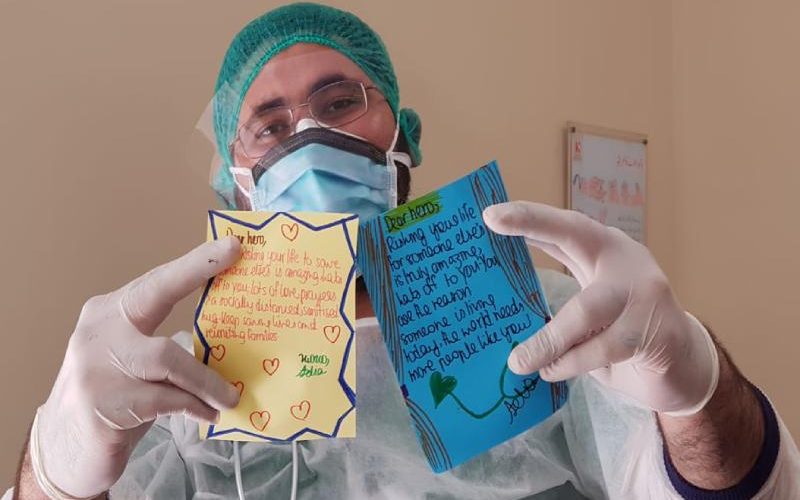 Karachi, May 5, 2020: From the onset of COVID-19 in Pakistan, in February 2020, Pakistani healthcare professionals are fighting at the forefront. The Indus Hospital is one of the finest healthcare institutes of the country which has set the bar really high whether it's about free treatment, quality healthcare, or the standard of healthcare professionals.
The Indus Hospital's doctors, nurses, paramedical staff and researchers have been fighting the COVID-19 menace fearlessly. Their efforts are being recognized not only by the management of the Indus Hospital but by their patients, community at large, and local and international media. One such proud moment was when the faculty received 'Letter of Love' in acknowledgment of their endless efforts and dedication.
Letters of Love is a youth-led international non-profit organization that offers psychosocial support to refugee children through art, sports, dance, and music workshops while creating a globally aware, empathetic citizenry of young leaders in classrooms. They deliver handwritten letters to refugee children and have engaged ten thousand of youth around the world in building a global youth movement to empower displaced communities.
With the onset of the COVID-19 pandemic, the organization extended it platforms for the heroes of the hour- Doctors, Nurses, and all medical frontline professionals. The organization chosen the heroes of the Indus Hospital from Pakistan, for their hard work and selfless services for humanity.
#DearHeroes is a global letter writing campaign where any and every one around the world, irrespective of age, religion or nationality, can send their messages of gratitude and Letters of Love delivers these handwritten letters to doctors and nurses.
Dr. Sama Mukhtar, Associate consultant and Senior Registrar General Surgery, Indus Hospital received 'Letters of Love' and said, "It was a regular day at the Indus Hospital's COVID Emergency Unit when I received a beautiful basket full of 'Letters of Love'. Thank you, Letters of Love for showing your support in these uncertain times. Your faith in us has uplifted the spirits of our hard working teams. With this burst of energy and faith in the Almighty, we shall overcome this pandemic."