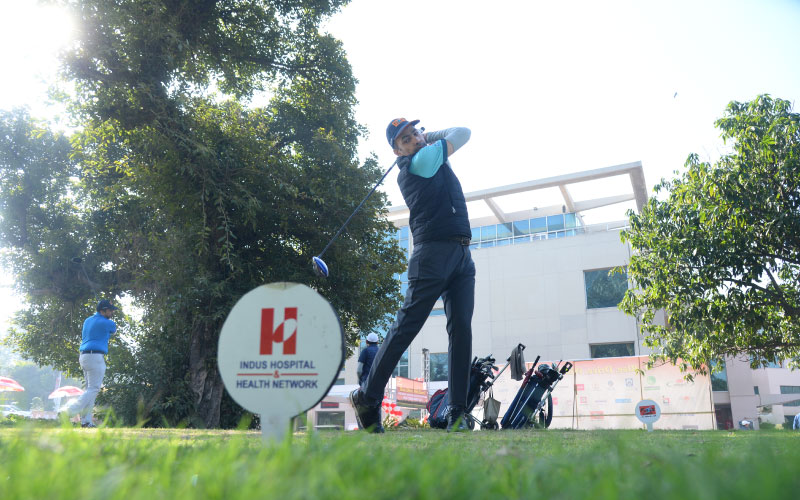 Lahore, Pakistan
The Indus Hospital & Health Network (IHHN) partnered with Fast Cables to host its third and final Golf Tournament of the year in Pakistan. The Fast Cables – IHHN Golf Tournament 2022 was held on February 27, 2022, at the Royal Palm Golf and Country Club. Dr. Abdul Bari Khan, Chief Executive Officer, xxx, Syed Mashhood Rizvi, Executive Director, IHHN, and others were present.
Dr. Bari and Mian Kamal, Director, Fast Cables, distributed the prizes among the winners.
The event capped off the Golf tournaments of 2022 that were earlier held in Karachi and Islamabad. The objective of organizing the Golf tournament was to help raise funds for the newly-built Indus Hospital & Health Network – QF, NST & SMP Campus. It provided an opportunity for corporate leaders to showcase their commitment to IHHN's mission. Media Partner ARY Network covered the event.
The annual Golf Tournament is Indus Hospital & Health Network's flagship sports event which was started in 2016. The annual event has earned a significant position in the corporate sector and Golfing community. After successfully holding the event in Karachi, IHHN organized the first tournament in Lahore in 2020. On February 20, 2022, IHHN held its first Golf tournament in Islamabad. The International Partners of IHHN have also organized three tournaments in the UK and one in Canada.
Indus Hospital & Health Network – QF, NST & SMP Campus is a state-of-the-art, 600-bed, multidisciplinary hospital inaugurated by the Governor of Punjab on June 30, 2021. Located at Jubilee Town, the teaching hospital was established to cater to the escalating demand for free-of-cost and quality healthcare service in Punjab. The main objective of the QF, NST & SMP Campus is to provide quality healthcare free to the deprived class of society without any discrimination.
In the first phase, 100 beds have been operationalized. Consultant clinics such as Internal Medicine, Pediatrics, Obstetrics and Gynecology, General Surgery, and Orthopedics are functional. In addition, Family Medicine and Daycare services are also being provided. 82% of all patients visitng the Campus are Zakat eligible. As of January 2022, 42,360 patients have been served; Ultrasound were performed on 938 patients; X-ray performed on 1,281 patients; and 1,268 patients were admitted.
Rooted in values of compassion, respect, and dignity for all, Indus Hospital & Health Network – QF, NST & SMP Campus is our promise to transform the future of healthcare for the people of Lahore and beyond.