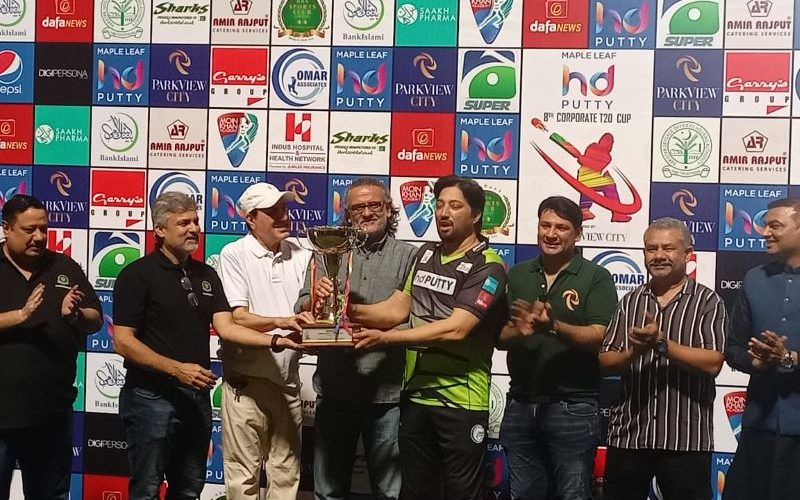 Pakistan's most renown celebrities came together to play the opening ceremonial match of Maple Leaf HD Putty's 8th Corporate T20 Cup – powered by ParkView City. The match was dedicated to Indus Hospital & Health Network and took place on April 7, 2023 at DHA Sports Club, Moin Khan Academy, Karachi.
The match culminated in an exciting win for CBT Team Blue which included Saud Qasmi, Humayun Saeed, Kamran Jeelani, Ali Ansari, Mohsin Talat (WK), Salman Saeed, Sameer Hussain, Rizwan Ali Jaffri, Kamran Khan, Farhan Ali Agha, Naveed Buland, Faisal Ilyas, Naeem Haq, Naveed Raza, and Ijaz Aslam.
CBT Red Team's members included Tehseen Javed, Fahad Mustafa, Junaid Ali Shah, Faysal Qureshi, Junaid Khan, Syed Mukhtar Ahmed, Haroon Shahid (WK), Asim Mehmood, Qamar Ibrahim, Faheem Abbas, Noman Habib, Tehseen CHauhaan, Asif Shehzad, Nawab Alam, Nadeem Omer.
Speaking at the closing ceremony, Syed Mashhood Rizvi, Executive Director, Communication & Resource Development, and Chief of Staff to President, thanked Moin Khan Academy and all participating groups for coming together to support IHHN's noble cause of providing free-of-cost, excellence in healthcare to all.
In the 15 years since its inception IHHN has evolved from a single 150-bed hospital to a nationwide network of healthcare facilities serving over 500,000 needy patients every month. This widespread reach and life-changing impact would not have been possible without the strong backing of our generous supporters. As IHHN continues to further expand its services and footprint to cater to the needs of all across Pakistan, we are proud to continue standing with these dedicated groups whose compassion and humanity has helped saved countless lives in the past.