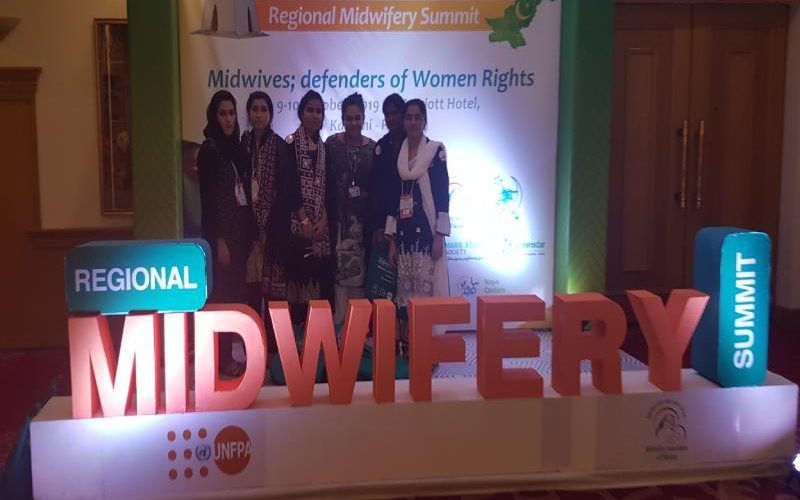 Karachi, Pakistan
October 21, 2019
A two-day regional midwifery summit was held in Karachi on October 9-10, 2019. The theme of the conference was 'Midwives; Defenders of Women's Rights'. This conference was organized by the Midwifery Association of Pakistan in collaboration with UNFPA and the Pakistan National Forum on Women's Health. The conference was attended by the delegations from Afghanistan, Bangladesh, Indonesia, Nepal, Turkey, Iran, Ireland, the UK, and Thailand while 700 midwives from across Pakistan also participated.
The Indus Health Network representatives from Sheikh Saeed Memorial Campus; Indus College of Nursing and Midwifery; and the midwife-run labor room at the Al-Ghazi Trust Campus in Bhong, Rahim Yar Khan also attended the conference.
Midwives from around the world spoke about the midwife-led models of care used in their countries, the successes they have achieved in reduction in maternal and neonatal mortality and morbidity, and the importance of collaboration and not competition between midlevel healthcare providers and doctors. The inaugural event was also attended by Dr. Azra Fazal Pechuho, Minister of Health and Population Welfare, Sindh.
The breakout sessions of the conference focused on skill building and experience sharing by midwives, public health professionals and midwifery tutors focusing on topics such as business skills for midwives; kangaroo mother care; perinatal mental health; essential care for labor and birth; family planning; and state of midwifery in the world.
Neha Mankani, Senior Manager, Maternal Health Program, Global Health Directorate conducted two sessions; 1) Innovations in pain management and 2) The midwife-led model of care being run in Bhong. The midwives managing the program were invited to share their experiences, learnings, and challenges with other midwives from across the region. Midwifery tutors from the Indus College of Nursing and Midwiferry and midwives from Bhong Campus will now be replicating their learnings from the conference with other midwives and midwifery students, and have also formed linkages with midwifery partners who they can collaborate with for further trainings and program expansion.