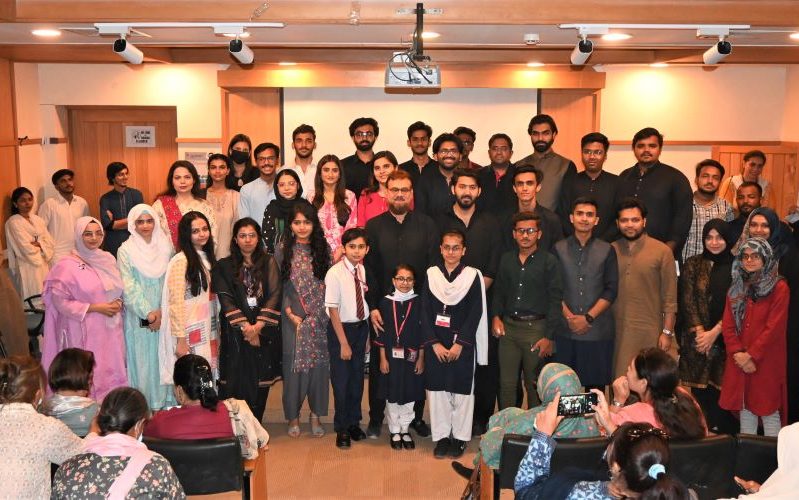 Indus Hospital and Health Network recently held an appreciation ceremony on May 5th, 2023, to celebrate the success of Meer-e-Karwan Hum Hain, Pakistan's largest youth-led Ramazan campaign. The campaign, led by IHHN's Indus Yaqeen program, rallied support and raised funds for the benefit of patients in need at Indus Hospital & Health Network. The event was attended by volunteers and faculty members from the 35+ participating educational institutes, including Dr. Abdul Bari Khan, President of IHHN, and Dr. Muhammad Fareeduddin, Chair of the Department of Pediatrics.
During the campaign, students and volunteers from different schools, colleges, and universities across Pakistan advocated for IHHN's efforts to serve patients with respect and dignity. They used various media platforms to propagate the message of love, care, and generosity amongst their friends, family, and communities and rallied thousands of people and organizations to support IHHN to save and transform lives.
The 200+ volunteers went door-to-door and distributed over 12,500 flyers to the public and engaged over 22,000 viewers online. Additionally, more than 9,000 students from grades 1-7 collected funds in their Indus Tarbiyat money boxes and donated them for the treatment of patients, including children battling cancer, at IHHN.
Thanks to the collective efforts of the students, volunteers, and participating institutes, the Meer-e-Karwan campaign provided life-saving chemotherapy sessions to 1,100 children with cancer and sponsored the complete treatment for cancer to 5 children.
Dr. Abdul Bari Khan gave closing remarks, thanking all volunteers and participating schools for taking the initiative and making Meer-e-Karwan Hum Hain a resounding success during the blessed month of Ramazan. Awards and Letters of Appreciation were also handed out to participants at the end of the ceremony.
Indus Hospital and Health Network expressed immense pride in calling these young changemakers supporters of IHHN, who mobilized themselves and their community to serve the underprivileged and those in suffering. The success of Meer-e-Karwan Hum Hain is a testament to the power of youth-led initiatives and community-driven efforts toward social causes.