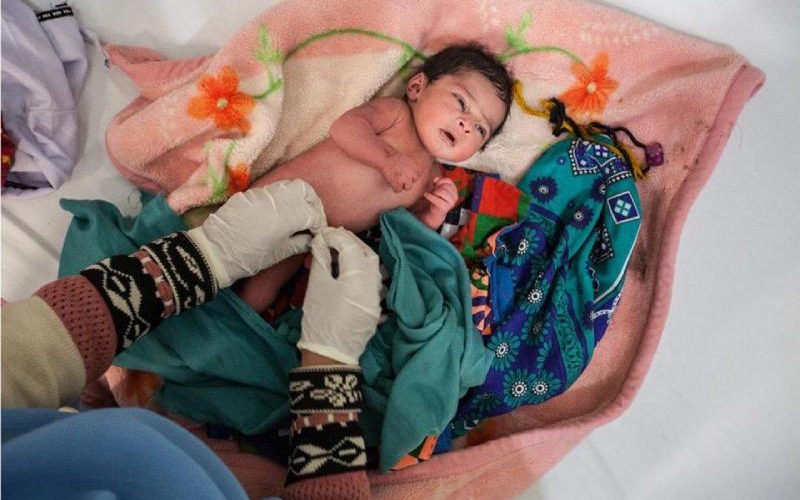 The Indus Health Network (IHN) is creating a lasting impact on the local communities where it is operating. IHN's efforts are changing the health indicators of the society at large and one such example is utilization of midwives for safe birth and reduction of maternal and neonatal mortality rates in Bhong, District Rahim Yar Khan.
Al-Ghazi Trust Hospital's Midwifery School has graduated over 100 women through its two-year residency program. These graduates go on to providing services in villages and small towns of Rajanpur and Rahim Yar Khan while most of them work at the Al-Ghazi Trust Hospital. Last year, IHN's Global Health Directorate launched nine public health programs at Al-Ghazi Trust Campus, which included a Midwifery-led Labor Room program. The program was meant to cater to the primary healthcare needs of the catchment area.
Every 60 minutes, three women die in Pakistan due to pregnancy- and childbirth-related complications.1  Bhong and adjoining areas have no different fate because they lack quality birthing services. Majority of the deliveries were either conducted at home by traditional birth attendants or at public maternity homes where women are treated poorly and give birth in unsterile and unsafe environment.
The midwife-run labor room is run by a team of five midwives from the area. They provide antenatal care and ultrasound services to women throughout their pregnancy and run the labor room 24/7 followed by post-delivery check-ups, new born care, and lactation support. All babies born at the facility are also provided with a new born starter kit by a partnering organization which consists of new born clothes and essentials for new mother and baby. Women who need to be referred to higher level facilities during pregnancy or labor are sent through Hospital's ambulance to the 1.5 hours away District Headquarter hospital, Bhong.
Since February 2019, the midwifery program has conducted more than 2,000 antenatal appointments and above 100 safe deliveries. The midwives have transformed the entire maternal health landscape of Bhong and surrounding villages by following the midwifery model of care and are providing quality maternal and new born health services.