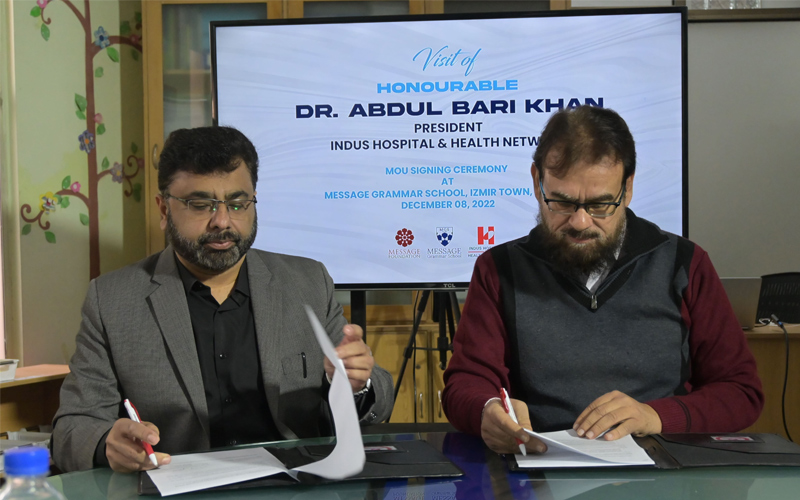 Message Grammar School, Lahore signed a memorandum of understanding with Indus Hospital & Health Network for its Indus Yaqeen (youth volunteer & ambassadorship program) and Indus Tarbiyat (box of kindness to save lives program).
Message Grammar School aims to build values of empathy, respect and care amongst its student body so they may use their knowledge and skills to transform themselves and the society. Aligned with the purpose of nurturing the future generation of Pakistan to become responsible citizens, this partnership will provide the students a platform to unleash their power of becoming change agents for the communities that need support.
Following the signing ceremony, Dr. Abdul Bari Khan, President IHHN, met the students and faculty and shared his inspiring journey of establishing IHHN. He encouraged that as young enterprising youth, they must dream big, have faith in Almighty to achieve big in life. He also emphasized that each one of us should pay high respect to our parents and teachers. It is because of their love and support that we are here with opportunities to become responsible citizens of our country.
Mr. Muhammad Azhar Khan, Executive Director Message Grammar School appreciated IHHN and Dr. Abdul Bari Khan for inspiring the students and providing Message Grammar School an opportunity for its students to be conscious citizens of tomorrow and play their role in making Pakistan a healthier nation.