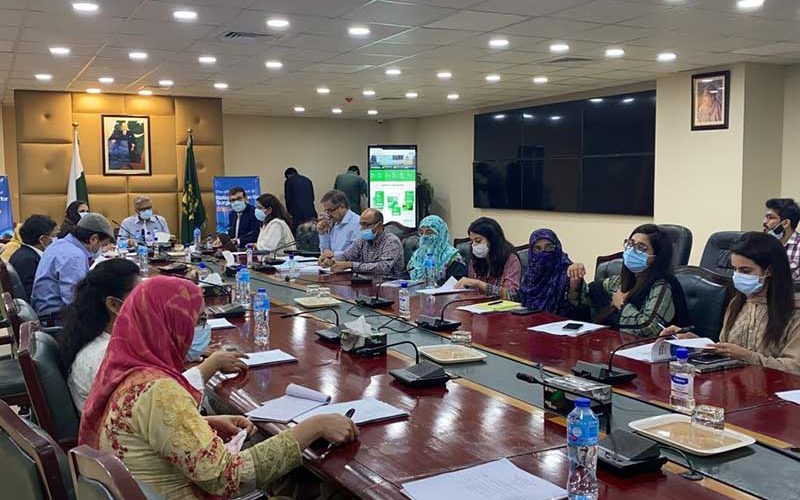 "An estimated 16.9 million people die each year from surgically preventable causes of death, with 95% of these deaths occurring in South Asia and sub-Saharan Africa. Safe surgical and anesthesia care in low and middle-income countries (LMICs) has not progressed during the last 25 years despite significant advancements in global health. Worldwide, 5 billion people lack access to surgical care due to a paucity of health facilities, poor infrastructure, inappropriate health workforce, and low financial protection," according to experts at the virtual launch of the National Vision for Surgical Care 2020-25 in Islamabad on July 12, 2021.
Dr. Faisal Sultan, Special Assistant to the Prime Minister on Health; Dr. Nausheen Hamid, Parliamentary Secretary on Health; DG Health; Executive Directors of ICT hospitals and others were present along with Dr. Abdul Bari Khan, Chief Executive Officer, Indus Hospital & Health Network (IHHN) and Dr. Lubna Samad, Senior Consultant, Pediatric Services, IHHN were present at the event conducted at the Ministry of National Health Services, Regulations and Coordination (MoNHSR&C). The event was co-hosted by MoNHSR&C and United Nations Institute for Training and Research (UNITAR), supported by IHHN, the Global Surgery Foundation (GSF), and Program in Global Surgery and Social Change (PGSSC).
Dr. Faisal Sultan started the proceedings by discussing Pakistan's commitment to Universal Health Coverage. "We are determined to make sure that not only services are provided but standards and safety are met especially for those going under the knife," he said. "The Pakistan Medical Commission, which is the regulator of physician education, is a framework that not only is modern but builds on the idea of a continuous learning environment for practicing physicians to ensure safe and effective care to their patients. This environment of an accountable and documented ability, whether surgical or medical, is part of the agenda of this event."
Nikhil Seth, Assistant Secretary, and Executive Director UNITA, while addressing the launch event from Geneva said that the event highlighted the commitment by the Government of Pakistan to integrate surgical care within its key health systems strengthening strategy – the Universal Health Coverage – Essential Package of Health Services. "Through the integration of surgical care into the national health strategy, Pakistan is leading the way in finding solutions to increase access to
surgical, obstetric, and anesthesia care – solutions that will ultimately save thousands of lives."
He added that Pakistan's National Vision for Surgical Care 2020-25 is a pivotal step forward to achieving Universal Health Coverage and meeting the health-related SDGs, both of which are not possible without the inclusion of safe and affordable surgical care systems.Seth also commended Dr. Faisal Sultan and his team for their efforts in striving forward and finding solutions for providing universal health coverage for Pakistan – and through the National Vision for Surgical Care, making surgical care a key priority for his Ministry.
He hoped that Pakistan's pioneering efforts as the first country in Asia to develop a national surgical plan will lead as an example for other nations of the world and will benefit many vulnerable populations in the future. He further said that UNITAR looks forward to seeing the implementation of this plan and the impact it will have on Pakistan.
"UNITAR, along with the Global Surgery Foundation are committed to working with all stakeholders to achieve this goal," he added.
Experts also stressed that with a population of around 227 million, the need for surgical care is rapidly increasing in Pakistan and the current surgical systems are unable to cope with this growing demand.
"Pakistan has only 6 surgeons, obstetricians, and anesthesiologists (SOA) per 100,000 population against the minimum target of 20 per 100,000 proposed by the Lancet Commission on Global Surgery (LCoGS). Pakistan has a high maternal mortality rate of 276 per 100,000 population. Many of these deaths could be prevented if the country had ready access to obstetric surgical care, particularly at the secondary level," Dr. Lubna told at the launch.
She added, "An estimated additional 10 million surgeries need to be performed every year to address this unmet need. Pakistan lacks utilization of services due to inappropriate distribution of workforce and resources, especially at the secondary level of healthcare."
Dr. Geoff Ibbotson, Senior Health Advisor, UNITAR who serves as the Executive Lead of the Global Surgery Foundation, joined in the event from Geneva, Switzerland to celebrate the launch of Pakistan's National Vision for Surgical Care. "The GSF stands committed to support Pakistan on the long road ahead. Pakistan's National Surgical Plan in Universal Health Coverage and Essential Health Services
implementation is a unique model that has the potential to truly integrate surgery as part of universal health coverage and set a precedent globally. The entire team at the GSF are excited to see this approach materialize in the coming months and years and are prepared to extend all possible support to make this initiative a success."
Dr. Nausheen Hamid said that the event highlighted that surgical care delivery needs to be approached as an important part of public health and policy. "In a resource-constrained country like Pakistan, it is all the more important to approach health systems improvement based on evidence so that limited resources — both financial and human resources — are used efficiently and the most advantage is gained for every rupee spent."
She added that it was very encouraging to see surgeons, obstetricians, and anesthetists taking a leading role in developing and implementing this surgical plan. "Their [surgeons, obstetricians, and anesthetists] understanding of the needs of the surgical patient and the current surgical system in Pakistan is unparalleled. I encourage all surgeons, anesthetists, and obstetricians to look at patient care beyond the confines of the operating room and the hospital, and support our Government's efforts to improve surgical systems especially for the poor and those that live in remote areas."
She added, "I am very grateful to Dr. Bari and his team at the Indus Hospital & Health Network for taking a lead in this."
Recognizing the gap, in May 2015 the World Health Assembly passed a resolution (WHA68.15) that commits to "strengthening emergency and essential surgical care and anesthesia as an essential component of universal health coverage". In the same year, the LCoGS published its findings and highlighted the inequity in surgical care. The LCoGS proposed the national surgical, obstetric, and anesthesia plan (NSOAP) as a strategic framework to guide countries to strengthen surgical platforms, and emphasized the need for collection of defined surgical indicators to track progress. Subsequently, four out of these six indicators were adopted as part of the World Development Indicators.
As a signatory to WHA Resolution 68.15, Pakistan has taken a lead as Asia's first country to develop a national surgical plan. Pakistan has a devolved health system with a federal ministry of health and four provincial health departments, working autonomously to implement their strategic plans developed under NVSC2025. Surgery and surgical services were not a priority area and subsequently overlooked by planners and policymakers at key forums. Utilizing the NSOAP framework,
Pakistan's National Vision for Surgical Care was developed by a broad spectrum of relevant stakeholders to highlight current gaps in surgical care delivery and provide a strategic direction to strengthen surgical systems in the country.
The NVSC process was led by the Indus Hospital & Health Network in collaboration with the MoNHSR&C, with technical support provided by the PGSSC and the World Health Organization. A National Stakeholders' Conference was convened in November 2018 to develop a board stakeholder engagement with public and private, national, and international stakeholders committing to a roadmap for improving surgical care in Pakistan through a "Consensus Statement" that was released at the end of the conference. This summary statement was expanded based on stakeholder input provided during the two-day conference as well as during provincial consultations held in March 2019, leading to the finalization of the NVSC2025 document. Subsequently, this draft document was finalized and approved by MoNHSR&C in April 2021.
The implementation of the Universal Health Coverage-Benefit Package (UHC-BP) Pilot Project in Pakistan provides a unique opportunity for integration of surgical systems strengthening as a key component of overall health system optimization. Technical expertise on the surgical component of UHC-BP was provided by IHHN team; in particular, the need for surgical care for children is an essential part of this package. Thus, UHC-BP provides a timely vehicle for the implementation of NVSC.