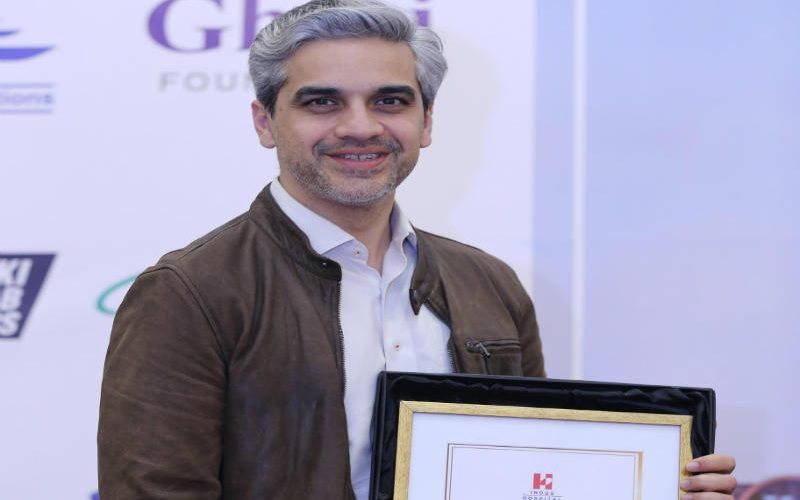 The i-Indus Ambassadorship Program of The Indus Hospital continues to gain momentum as more celebrities join it.  The most recent i- Indus ambassador to come on board is Mr. Omair Rana, the skilled actor and theatre director.
Mr. Rana was presented the i-Indus Ambassador Certificate by Dr. Abdul Bari, CEO, Indus Health Network at the ceremony of the first Golf Tournament of the Indus Hospital in Lahore on February 16, 2020. Speaking at the event Mr. Rana expressed his pleasure on being part of our ambassadorship program and affirmed his commitment to support the Indus Hospital. He also congratulated the Indus Hospital on inaugurating its Lahore Campus and wished the network success and prosperity.
Mr. Rana also attended Art-i-Biotic, an annual arts exhibition showcasing the paintings of childhood cancer patients at the Pediatric Complex of the Indus Hospital. The exhibition was inaugurated on February 14, 2020 to mark the International Childhood Cancer Day. He appreciated the paintings of the childhood cancer patients that were on display and listened to the story of each of the featured young artists. Mr. Rana highly praised the efforts of the Indus Hospital and highlighted the need for Psych-social facilities in all hospitals across the country to help patients and their families cope with the trauma of illness and loss.
The i-Indus Ambassadorship program aims to utilize the star-power of celebrities to further the cause of the Indus hospital for free and quality healthcare for all.