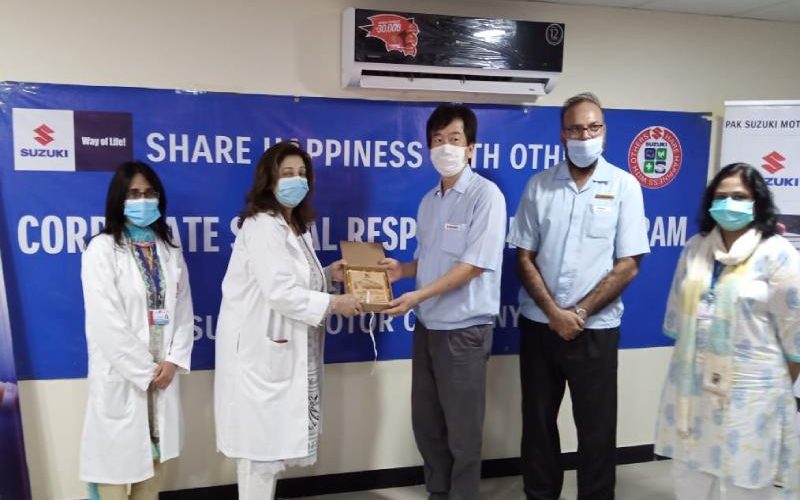 Karachi, September 18, 2020: Pak Suzuki has donated a CO2 incubator machine to The Indus Hospital (TIH), under its corporate social responsibility (CSR)program. The incubator will be used by the Indus Hospital, Korangi Campus to carry out a research and development program against the coronavirus.
The CO2 incubator placed in the Molecular Biology Area was inaugurated by Masafumi Harano, MD and CEO, Pak Suzuki. Dr. Abdul Bari Khan, CEO, Indus Health Network; Dr. Saba Jamal, Director Indus Blood Center, Dr. Javeria Aijaz, Senior Consultant of Molecular Biology Section and Irfan Tariq, head of corporate and planning, Pak Suzuki were present at the occasion.
"The general cell culture incubator is a piece of standard equipment for cell culture needed for molecular biology research," Dr. Javeria explained at the ceremony.
Explaining the science behind the research which will be conducted by the Indus Hospital, Dr. Javeria said, "When the virus infects the body, the body produces antibodies to neutralize the virus or in other words to kill the virus. There are two kinds of antibodies, one is binding — which doesn't kill the virus, just binds to the virus. The other is a type of antibody which not only neutralizes but also kills the virus."
"The principle behind the antibody neutralizing test is that we grow the human cells artificially in the lab. Along with the cells, the virus is also produced artificially in the lab. Where it is analyzed with the help of the plasma of a recovered coronavirus patient," she added.
Pak Suzuki CEO, while speaking on the occasion said, "The company is proud to be standing with the Indus Hospital. TIH played a very important role against the pandemic which is commendable. The Indus Hospital has initiated a research program against COVID-19 for gearing up the treatment methodology in Pakistan, which could helpful at global level."
"It is indeed a remarkable effort and support to poor patients. I sincerely appreciate the dedication of the Indus Hospital's team for serving humanity," he added.