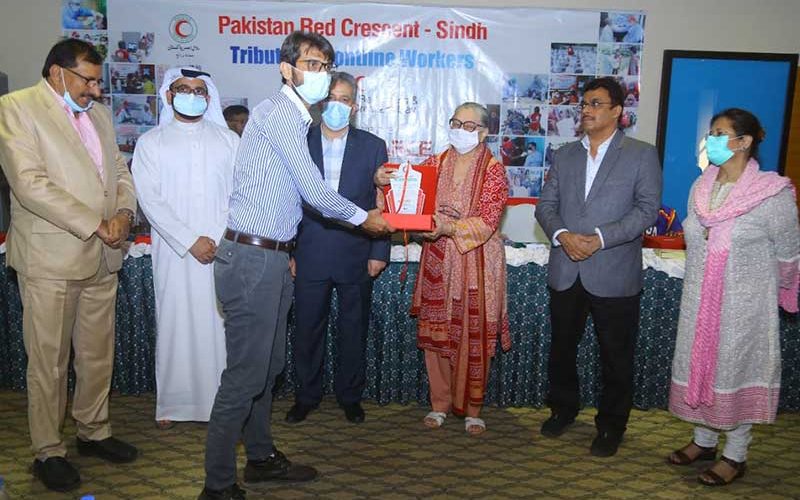 Adding another feather in its cap, the Indus Hospital & Health Network (IHHN) was recognized by the Pakistan Red Crescent Society for its efforts during the COVID-19 pandemic at an event held on July 7, 2021.
IHHN was the recipient of the "Commendation Award" for its work as a frontline organization during the COVID-19 pandemic.
"Today, we all would like to pay tribute to all these staff members and volunteers for performing commendable work during the COVID-19 emergency," Shahnaz Hamid, Chairman, Pakistan Red Crescent Society, said during the event. "Together we are unstoppable is the theme of World Red Cross/Red Crescent Day 2021, and today I believe that by working together, we can help the most deserving and vulnerable people of our society."
Dr. Ghazanfar Saleem, Chair, Emergency Services at The Indus Hospital & Health Network, accepted the award on behalf of the Network and thanked the Pakistan Red Crescent Society for their recognition and appreciation of the IHHN's efforts in combatting the pandemic.
In 2020, the Network set up a respiratory emergency room, a designated COVID-19 Unit setup at its hospitals, physiotherapy sessions for post-COVID-19 patients, a COVID-19 clinic with dialysis facility as well as a COVID-19 labor room and operation theatre for COVID-19 positive moms.
In addition, IHHN established a COVID-19 unit in Badin and Muzaffargarh under the Public-Private Partnership with the governments of Sindh and Punjab. The Network also helped the Sindh Government to set up two hospitals at Dumba Goth and Gadap Town. Moreover, a 26-bed facility was set up at the Korangi Campus, while the Emergency Department of the hospital was designated for the screening and treatment of COVID-19 patients.